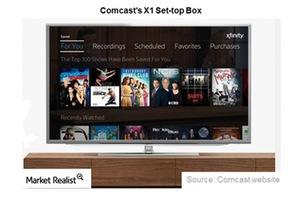 Wondering Why Comcast Licensed X1 to Cox? Here's Why
By Shirley Pelts

Updated
Rationale behind licensing of X1
Early this year, Comcast (CMCSA) licensed its X1 platform to Cox Communications and Shaw Communications (SJR). When Comcast was asked about the rationale behind this move at the Nomura Media, Telecom & Internet Conference last month, the company stated the following:
"We tend not to serve—we don't serve the New York market for the most part or the LA market, which is where a lot of kind of the media lives. And we were mainly looking for other outlets for X1 so people in those markets could also experience a fully integrated, next-generation video experience. So a big part of our initial driver was just to make the technology available so that it could be consumed everywhere and, on some level, raise all boats."
Article continues below advertisement
Comcast further stated that the licensing fees earned from this strategy would give the company "additional scale in development," which "also gives us an option to extend different business capabilities. So, for example, you noted early in this conversation, we've been making a lot of investments in advanced advertising. X1 extends those capabilities to other distributors."
The company also stated that Comcast could also scale up its electronic sell-through of movies business by partnering with MSOs (multiple system operators) through licensing of X1.
About X1
X1 is Comcast's VoD (video-on-demand) platform. Comcast's X1 set-top box has proved to be a game-changer for the company. The X1 set-top box has been a key product that is driving Comcast's video business. It offers search and personalized recommendations through Comcast's cloud computing infrastructure.
In the next part, we'll explore Comcast's deal with Netflix.