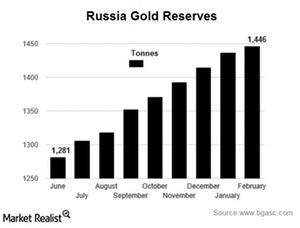 Is Russia Another Gold Stacker?
Accumulating gold
Gold is preferred by central banks and ordinary citizens as a store of value when uncertainty strikes markets, because the value of gold as compared to the paper currencies often stands firm. While investors were troubled by the early-2016 market unrest, they parked their money in gold.
Meanwhile, the central bank of Russia has been quietly collecting gold over the past year. In January 2016, it bought almost 22 tons of gold worth ~$800 million. This was the eleventh month in a row that Russia bought large gold volumes. Russia added 172 tons and 208 tons of gold in 2014 and 2015, respectively. Russia is the sixth-largest in terms of gold reserves lagging only, USA, Germany, Italy, France, and China.
Article continues below advertisement
Article continues below advertisement
Inflationary pressure
Notably, the Russian central bank has been selling its holdings of US Treasury debt to buy gold. As of December 2015, Russia held $92 billion in US Treasury Bonds, which is down from $132 billion in January 2014. Russia's GDP shrank by 2.5% in January after shrinking 3.5% in December, and the outlook also remains dim. Inflation is running around 10% annually, and the Russian ruble has fallen against the dollar, adding to inflationary pressures. But during such turbulent times, a country can pile up gold.
Russia is also one of the top three gold-producing nations in the world. In 2015, Russia added 208 tons of the gold it produced to its reserves. Since 2009, in total, Russia has added more than 822 tons of gold to its reserves.
Investors should note that the changes in gold are well reflected in funds like the Vaneck Merk Gold Shares (OUNZ) and the ProShares Ultra Gold (UGL).
Now let's check in with Canada.