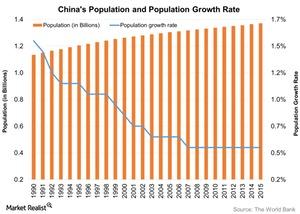 China's Human Rights Violations and Population Control Policies
Human rights violations in China
The Congressional-Executive Commission on China released a translation of the executive summary of its report on March 1, 2016. It stated that 2015 saw "the tightening of controls over the media, universities, civil society, and rights advocacy, and on members of ethnic minorities."
Thus, 2015 became the worst year on record for human rights violations in China, according to a recent Congressional report.
Article continues below advertisement
Article continues below advertisement
As reported by Breitbart, the Commission said in the report that China's population control policy, now known as the two-child policy, continued to employ methods such as forced abortion and sterilization despite widespread public outcries. Many provincial laws in China explicitly instruct officials to carry out abortions for illegal pregnancies, with no requirement for consent.
According to the Congressional report, "China is not moving toward a rule of law system, but is instead further entrenching a system where the Party utilizes statutes to strengthen and maintain its leading role and power over the country."
China's population control policy
China is the most populated country in the world with more than 1 billion people, representing 19% of the world's population. The Chinese government has used several methods to control population growth.
Article continues below advertisement
One-child policy
In 1979, China instituted its one-child policy. Under this policy, parents had to obtain a birth certificate before the birth of their children. Citizens were offered special benefits if they agreed to have only one child. Citizens who did have more than one child would either be taxed up to 50% of their income or punished by loss of employment or benefits. Unplanned pregnancies or pregnancies without the proper authorization would be terminated.
However, the Chinese government ended its one-child policy on January 1, 2016, allowing couples to have two children. This came amid concerns over an aging population, one of the lowest birth rates in the world, and sluggish economic growth.
Birth-quota system
In 1980, the birth-quota system was introduced to monitor population growth. Under this system, the Chinese government set quotas for each province. Local governments were mainly responsible for making sure population growth didn't exceed the target quotas. If growth exceeded the target quota, then local officials were punished by law or by loss of privileges.
Other methods
Other methods of population control included compulsory sterilization, contraceptions such as intrauterine devices, tubal ligations, and absorptions. In the 1980s, the Chinese government made sterilization mandatory for people who already had two children. At its peak in 1983, tubal ligations, vasectomies, and abortions accounted for 35% of all birth control methods.
In the next part of this series, we'll see how China's population control policies have led to other social and economic problems for the country.