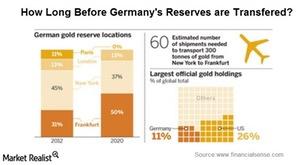 Why Germany Is Pulling Back on Gold
Second-largest gold reserves
According to statistics from the WGC (World Gold Council), Germany has the second-largest gold reserves, lagging just behind the US, which has about 8,133 tons of gold in its reserves. Germany has close to 3,380 tons in gold reserves, which makes up about 70% of the country's total reserves.
Since 2013, Germany has resorted to the gold repatriation plan, which aims to transfer more than 673 metric tons of gold from storage in Paris and New York back to Germany by 2020. According to Deutsche Bundesbank, in 2015, Germany picked up the pace of its repatriation, transferring around 110 metric tons of gold from storage facilities in Paris and around 100 metric tons from New York.
In total, the German bank is planning to relocate 300 tons of gold to Frankfurt from New York and 374 tons to Frankfurt from Paris by 2020.
Article continues below advertisement
Article continues below advertisement
Uncertainty buffer
The Deutsche Bundesbank has been criticized in its home country for keeping a major part of Germany's gold reserves abroad. As we've already discussed in this series, gold is known to be an insurance against market uncertainties, and critics are demanding the complete return of the gold to the country. The immediate physical availability would be a decisive criterion in times of crisis. The function of gold reserves is to ensure the flow of trade in times of uncertainty and is the last remaining asset a nation has that is acceptable to overseas creditors when other national assets fail.
The haven appeal of gold is, of course, very famous, and it's one of the leading reasons behind the tremendous surge in gold prices in 2016. Funds that have also gained by leaps and bounds with the surge in gold and other precious metals include the DB Gold Double Long ETN (DGP) and the PowerShares DB Silver Fund (DBS). These two funds have witnessed rises of 58.8% and 42.6%, respectively, year-to-date.