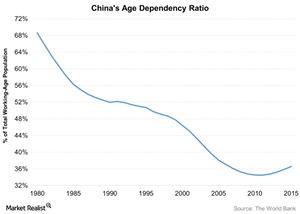 How China's Population Control Created Social, Economic Problems
By Lynn Noah

Aug. 9 2016, Published 9:05 a.m. ET
China's social and economic woes
In its bid to control population growth, China missed out on its biggest economic asset: its large human power. The one-child policy was beneficial to a certain extent since the population growth rate decreased. But it also produced social disadvantages in China such as gender imbalance and other social problems.
Article continues below advertisement
Aging population
China's population is aging rapidly, and its economy and workforce are declining. The country's population is set to peak at about 1.5 billion by 2050, when one in every three people is expected to be more than 60 years old with a shrinking proportion of working adults to support them.
According to the Ministry of Civil Affairs of the People's Republic of China, there were 222 million people aged 60 or above in China at the end of 2015. That's 16.1% of the total population. According to the Ministry report, of the 222 million, 143.9 million were 65 or above, or 10.5% of the total population.
Thus, China's rapidly aging population is likely to drag down economic growth. Government finances may also become more strained. China may have to divert funds from reforms and infrastructure investments to provide pensions and healthcare support to the elderly population.
The working age population is shrinking
According to data released by China's Ministry of Human Resources and Social Security, China's working age population will decline more than 23% to around 700 million by 2050. The working age population, those aged 16 to 59, has been on a decline since 2012 and is expected to reach 830 million in 2030.
One consequence of an aging population is the increase of the proportion of people dependent on those of working age. Currently, the median age in China is about 37 years. But by 2050, according to the United Nation's population projections, China's median age will shoot up to 50 years.
Article continues below advertisement
Gender imbalance
The direct ramification of China's strict one-child policy has led to a serious gender imbalance in the country. About 116 boys are born for every 100 girls, against a global average of 107 boys to 100 girls. This gender imbalance has resulted in substantial numbers of "missing women," a term coined by Amartya Sen in the late 1980s. It was based on his research that more than 100 million women were missing worldwide.
According to United Nations data, in 2015, there were 106 males for every 100 females in China. That was above the world total of 102 for the same measure and well above nearly every other country in the world. The preference for a male child over a female child has led to an increasing number of unmarried males in China.
Researchers have warned that large sex-ratio imbalances could lead to instability as more men remain unmarried. This could raise the risks of antisocial and violent behaviors such as more gambling, alcohol and drug abuse, prostitution, rape, bride abduction, and human trafficking.
Poor social skills in 'little emperors'
The term "little emperors" was created for an only child. The child's parents usually spoil the child since it's the only child they have. Individuals who grew up as single children due to China's one-child policy were found to be considerably less trustworthy, more risk-averse, less competitive, more pessimistic, and less conscientious. It's been argued that their social skills will be poor compared to other children since they have no siblings at home.
In the next part of this series, we'll look at China's ranking in the Index of Economic Freedom for 2016.