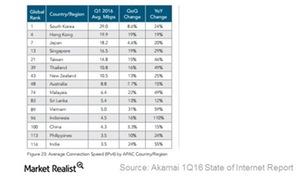 Netflix in Asia: Assessing the Business Strategy
Netflix's plan to woo price-conscious viewers
Netflix (NFLX) explained its pricing strategy for its Asian markets during its fiscal 2Q16 earnings call. The company stated that, after its launch in Asian markets, it had debated the pricing of its service in these markets. Netflix was wondering whether it wanted its service to be low-cost, priced at $2, or a $10 service. The company decided to provide a high-value service in Asia around the $10 price point with good content.
Article continues below advertisement
Article continues below advertisement
Netflix also stated that it's already offering plans at different price tiers for viewers. This approach means price-conscious viewers in Asia can choose the lower-price plan and Netflix won't lose these viewers. Netflix continues to keep its international pricing closer to its US prices. Netflix's streaming service in international markets costs between $6 and $19 per month.
Now let's look at how Netflix plans to target Asian viewers for success in the continent.
User base
Netflix stated that it's "primarily targeting outward‐looking, affluent consumers with international credit cards and smartphones" for its user base in international markets. It also expects that these users will be familiar with Netflix's English-language content.
Article continues below advertisement
Language and original content
In countries where English isn't the primary language, Netflix provides language support by adding subtitles to its English-language content.
In new territories, Netflix intends to build up its content gradually. This move could give Netflix time to gauge any possible censorship issues in developing markets.
Internet speeds
Internet speeds in developing countries could hinder Netflix. As the chart above shows, according to the "Akamai 1Q16 State of Internet Report," South Korea had the highest average Internet speed at 29 Mbps (megabits per second) while India ranked last with an average speed of 3.5 Mbps.
Considering that, in developing countries, the majority of video streaming takes place on smartphones, Netflix is working on "efficient video codecs" to provide this service and is also considering offline viewing.