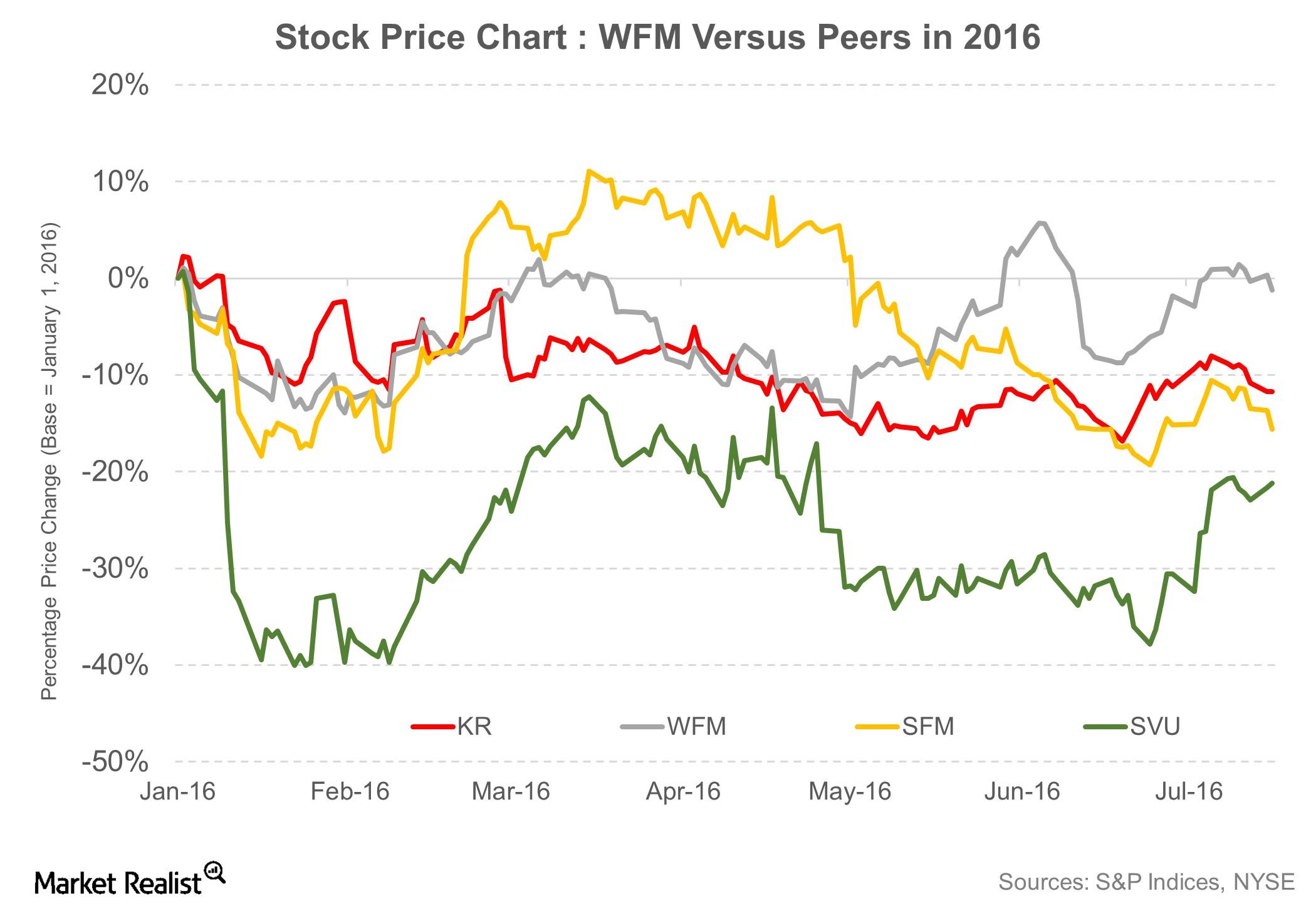 SuperValu's Stock Market Performance: A Peer Comparison
Stock market performance
The supermarket sector has been under pressure this year. Stocks of Kroger (KR), Sprouts Farmers Market (SFM), Whole Foods Market (WFM), and SuperValu (SVU) has been in the red in the stock market. However, SuperValu (SVU) has been among the worst performers, losing 21% year-to-date, as of July 20, 2016. The company lost around 30% of its value in 2015. SVU's stock is currently trading at $5.36, which is 42% below its 52-week high.
Article continues below advertisement
Article continues below advertisement
In comparison, SFM, KR, and WFM have lost 15.6%, 11.7%, and 1.2%, respectively. The S&P 500 Food & Staples Retail Index has given a decent performance and has gained around 5.8% YTD (year-to-date). It is a seven-company index based on Kroger (KR), Walmart (WMT), Costco Wholesale (COST), Walgreens Boots Alliance (WBA), CVS Health (CVS), Sysco (SYY), and Whole Foods Market (WFM). WMT has been the best performer in the group and has gained about 20% YTD.
Dividends
SVU has not paid any dividends since fiscal 2013. In comparison, Kroger and Whole Foods Market have been consistent dividend payers. The two companies have dividend payout ratios of 19.5% and 34.8%, respectively.
What's behind SVU's poor stock returns?
SVU's poor stock market performance has been primarily driven by its unimpressive financial results. The company has not been able to keep up with the increasing competition in the supermarket sector. Its revenue has remained almost flat since fiscal 2012 and has grown by a compound annual growth rate of 0.2% between 2012 and 2016.
ETF investors seeking to add exposure to SVU could consider the SPDR S&P Retail ETF (XRT), which invests 1.2% of its portfolio in the company. In the next part of this series, we'll compare the company's earnings forecasts and valuations with those of peers.