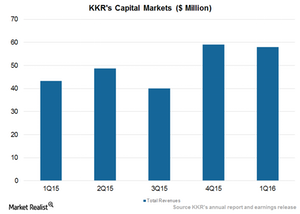 What Will Drive KKR's Capital Markets Segment?
By Robert Karr

Updated
Capital Markets segment
KKR & Co.'s (KKR) Capital Markets and Principal Activities segment saw its revenues rise in 1Q16 due to higher transaction fees. The segment reported revenues of $58 million in 1Q16—compared to $43 million in 1Q15. The momentum is expected to continue in the June quarter due to transactions in energy, renewables, and the retail space.
KKR's Capital Markets and Principal Activities segment advises its invested companies and third-party clients on capital market solutions. It provides services such as placing and underwriting securities offerings, arranging equity and debt financing for transactions, and managing other capital market services. The company makes agency or underwriting fees for managing these transactions.
In 2015, KKR posted a decline of $27 million in revenues to $191 million—compared to 2014. The decline was mainly due to the fall in capital market transaction activity in 3Q15.
KKR's total AUM (assets under management) stood at $126 billion in 1Q16. Let's compare that to the AUM for KKR's peers:
Together, these companies form 4.1% of the PowerShares Global Listed Private Equity ETF (PSP).
Difficult markets drive mergers and acquisitions
KKR's Capital Markets segment allows the company to access equity and debt capital directly, even in difficult markets. The company saw increased third-party deals due to innovative structured solutions. Overall, the equity markets were weak in 1Q16 both inside and outside the US. The slowing economies, especially in China, resulted in transactional activity for restructuring and mergers and acquisitions.
Historically, the Capital Markets segment's revenues have shown a higher correlation with the company's portfolio performance. The company generates 40%–50% of the Capital Markets segment's revenues from its portfolio companies. For 1Q16, the trend continued and translated to revenues in the Capital Markets segment.
Article continues below advertisement