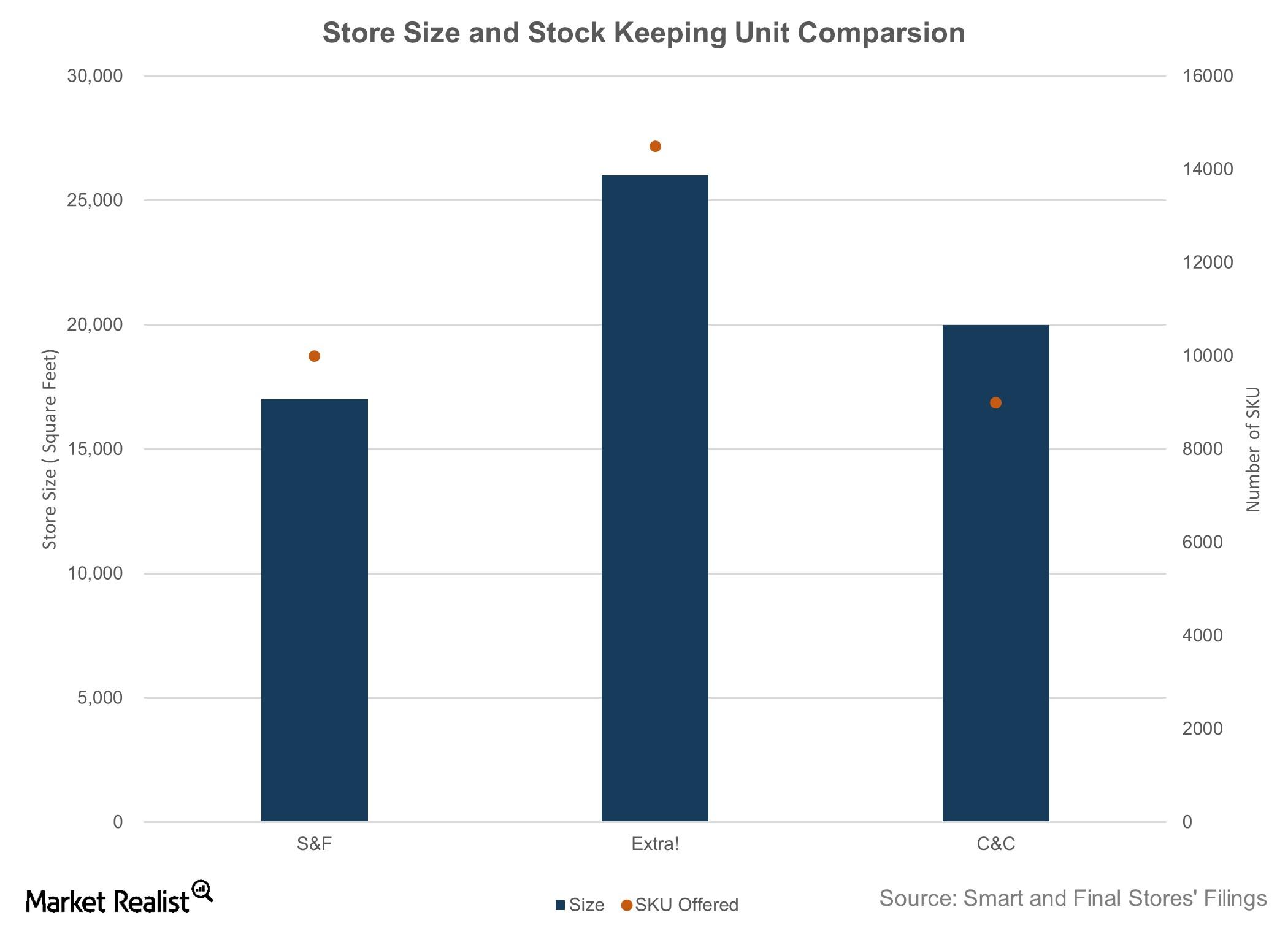 What Does a Typical Smart & Final Store Look Like?
A look at SFS's store size and SKUs offered
As discussed in the previous parts of the series, Smart & Final Stores (SFS) serves its customers through the Smart & Final, Smart & Final Extra!, and Cash & Carry Smart Foodservice banners.
In this article, we'll discuss these three store formats in terms of store size and number of SKUs (stock keeping units) offered. We'll also compare SFS stores with other warehouse clubs and grocery store chains.
Article continues below advertisement
SFS follows a small box format offering large SKUs
SFS stores have a smaller physical footprint than other warehouse clubs and grocery chains, but they offer a larger SKU selection. Smart & Final stores are about 17,000 square feet in size and offer around 10,000 SKUs. Extra! stores offer a selection of approximately 4,500 more SKUs than the legacy S&F banner in stores of around 26,000 square feet.
Cash & Carry stores lie somewhere in between the two formats in terms of size. They are typically 20,000 square feet, and they feature a lower number of SKUs—typically around 9000 in each store.
The SPDR S&P Retail ETF (XRT) has 0.26% exposure to SFS, while the iShares Russell 2000 Value ETF (IWN) has 0.05% exposure to the company.
What about SFS's competitors?
Most warehouse clubs of other retailers stock a smaller number of SKUs in stores with larger areas. Costco (COST) stocks an average of ~3,700 products at its warehouses, which are typically 144,000 square feet in size. Sam's Club, Walmart's (WMT) warehouse chain, houses around 5,500 products in stores of 132,000 square feet.
Supermarket chain Kroger (KR) stocks ~13,000 private-label items alone. Its multi-department stores average over 161,000 square feet, while the average store size of its Marketplace stores ranges between 100,000 and 130,000 square feet. It also operates price impact warehouse stores under the Food 4 Less and Foods Co banners, which average over 57,000 square feet in size.