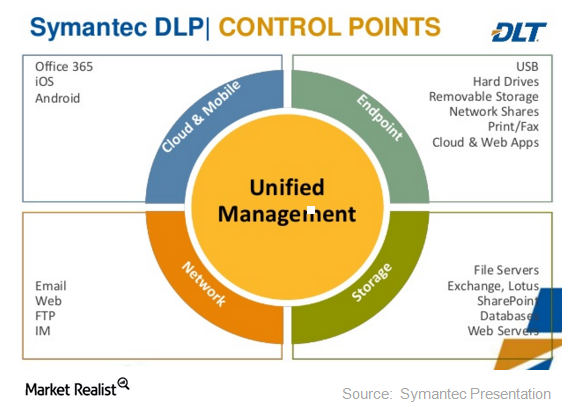 How Could the Blue Coat Acquisition Benefit Symantec?
Symantec's Enterprise Security segment will get a boost from the Blue Coat acquisition
In the first part of this series, we looked at Symantec's (SYMC) latest deal to acquire Blue Coat Systems. After Symantec sells Veritas, it will be left with the Enterprise Security and Consumer Security segments. To boost its position in the cybersecurity space, Symantec strategically chose to acquire Blue Coat.
Continued softness in the PC space impacts Symantec's Consumer Security segment. That has fueled the need for Symantec to strengthen its position in the security space. With Blue Coat under its umbrella, the enterprise security business share in Symantec's overall revenues will increase to 62%. It was close to 53% in fiscal 2016.
In fiscal 2016, Symantec's Enterprise Security revenues fell by 7% to ~$1.9 billion. Endpoint Protection and DLP (Data Loss Prevention) are the fastest-growing subsegments of the company's Enterprise Security Software business. A fall in DLP impacted Symantec's Enterprise Security segment.
In fiscal 2017, Symantec plans to release additional DLP cloud add-ons for Box (BOX), OneDrive, and Salesforce.com (CRM). DLP cloud is already available for Microsoft (MSFT) Office 365 and Google's (GOOG) (GOOGL) Gmail.

Article continues below advertisement
Symantec expects enhanced cost-saving with Blue Coat acquisition
Symantec stated that the acquisition of Blue Coat would help it realize another $150 million in savings. This will be in addition to an expected $400 million annual expense savings that Symantec previously announced. To save ~$400 million per year by the end of fiscal 2018, Symantec announced a restructuring plan. Under this plan, Symantec announced layoffs of 10% of its workforce, which translates to around 1,200 positions. It will also close some of its facilities.
With these expected cost synergies, Symantec now expects fiscal 2018 EPS (earnings per share) to be $1.70–1.80. Analyst estimates for Symantec's fiscal 2018 EPS is ~$1.39. The company intends to return $1.3 billion remaining to be spent on its $5.5 billion capital return program by the end of fiscal 2017.
Investors who want exposure to Symantec can consider investing in the PowerShares QQQ ETF (QQQ). QQQ has an exposure of ~27% to application software. It invests ~0.3% of its holdings in Symantec.
In the next part, we'll see why Blue Coat decided to shelve its IPO (initial public offering) plan and sell to Symantec.