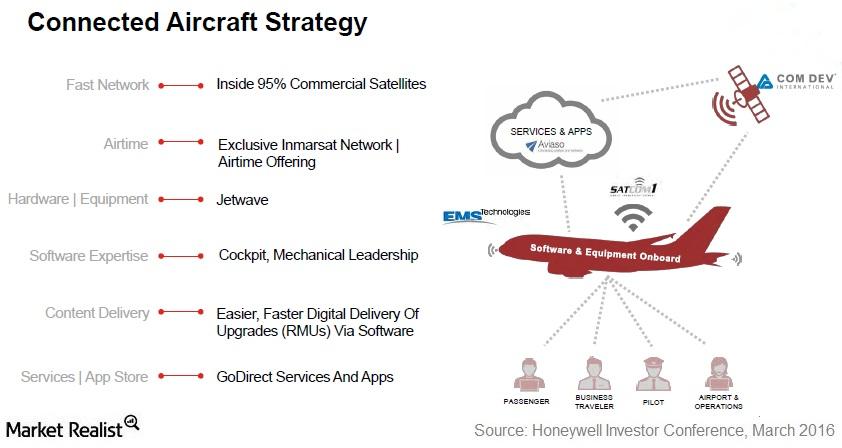 Honeywell Aerospace's Recent Developments in Connectivity
Honeywell acquired Aviaso in September 2015
In September 2015, Honeywell (HON) acquired Aviaso Software, a privately held aviation software company. Based in Switzerland, Aviaso develops and provides fuel efficiency and emission-saving software to the airline industry. The software is used to gather data usage and through a user-friendly interface, it communicates ways in which customers can minimize fuel consumption.
This acquisition is likely to boost Honeywell's existing suite of energy-efficient services offered to its customers in the airline industry. The terms of the deal were not disclosed.
Article continues below advertisement
Honeywell Aerospace acquires Satcom1
In November 2015, Honeywell (HON) signed an agreement to acquire the privately held satellite communications provider Satcom1. The Denmark-based company provides in-flight airtime and satellite communication services to private business aircraft as well as aircraft operated by governments and heads of states.
Satcom1's portfolio offerings also include in-flight Wi-Fi for cockpit communications to help pilots fly more safely. Satcom1 also provides specialized software for mission-critical communication needs such as combat situations. Although the terms of the deal were not disclosed, Satcom1 was expected to generate revenues of $25 million in 2015.
Management comments on Satcom1
Tim Mahoney, president and CEO of Honeywell Aerospace, noted, "Honeywell is already uniquely placed across the entire value chain of a thriving $8 billion in-flight connectivity segment, making the acquisition of Satcom1 an excellent fit with our business. The addition of Satcom1 significantly bolsters our connectivity portfolio and enhances our growing software engineering expertise. Our customers will benefit from our ability to now offer a complete suite of connectivity solutions, with a much greater global reach."
Investors interested in a detailed look at Honeywell Aerospace can refer to Why Investors Are Sweet on Honeywell.
Investors who would like to gain a broad-based exposure to the aerospace and defense industry can look into the PowerShares Aerospace & Defense ETF (PPA) and the iShares US Aerospace & Defense ETF (ITA). Major holdings in PPA include Honeywell (HON) at 6.7%, United Technologies (UTX) at 6.8%, and Lockheed Martin (LMT) at 6.7%.