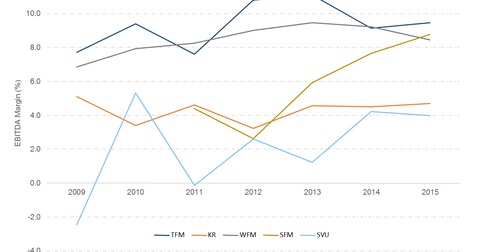 What's the Key to The Fresh Market's Profitability?
By Sonya Bells

Updated
A look at TFM's profitability
The Fresh Market (TFM) generated a net profit of $63 million during fiscal 2015 (year ended January 25, 2015). The company's net income grew at a compounded annual growth rate of 7% between 2012 and 2015, while its average net margin has been around 4% during the last three years.
Article continues below advertisement
Comparing profitability to peers'
Compared with other food retail chains, the company's performance in terms of profitability has been best-in-class. The Fresh Market's (TFM) average five-year EBITDA (earnings before interest, tax, depreciation, and amortization) margin stands at 9.6%. This is higher than Whole Foods Market's (WFM) average EBITDA margin of around 9%, Sprouts Farmer Market's (SFM) 6%, and Kroger's (KR) 4.3%.
The year-end dates for the above retailers are as follows:
The Fresh Market: January 25, 2015
Kroger: January 31, 2015
Whole Foods Market: September 27, 2015
Sprouts Farmers Market: December 28, 2014
SuperValu: February 28, 2015
Small-box format a key to high margins
The company believes having a smaller-box format with fewer SKUs (stock-keeping units) than other conventional supermarkets has proven to be highly profitable. Whereas TFM's stores are an average of 21,000 square feet and carry approximately 10,000 to 11,000 SKUs, conventional supermarkets are approximately 40,000 to 60,000 square feet in size and carry an average of 45,000 SKUs. Its smaller-box format has helped the company focus on higher-margin food categories, which has led to higher profitability.
Article continues below advertisement
It should be noted that although TFM has higher margins than its peers, its margins have come under pressure as a result of increasing competition in the food retail space. The company's EBITDA margin, which stood at 11% in fiscal 2013, fell to less than 8% in the most recent quarter (quarter ended October 2015).