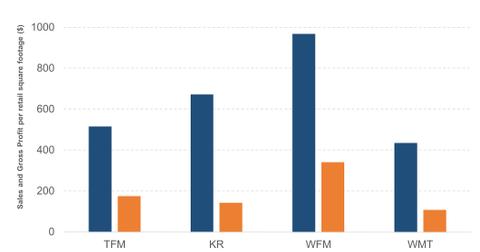 How Do The Fresh Market's Stores Compare with Those of Its Peers?
By Sonya Bells

Updated
The Fresh Market's stores: Peer comparison
The Fresh Market (TFM) is a grocery retailer focused on selling premium perishable items. The company opened its first store in 1982 in North Carolina. As of October 25, 2015, it had expanded its store base to 180 stores across 27 states.
The company follows a small-box format with an average size of 21,000 square feet. Its stores are smaller than those of Sprouts Farmers Market (SFM), which have an average size of 28,000 to 30,000 square feet, and those of Whole Foods Market (WFM), which have an average size of 38,000 square feet. Kroger has considerably bigger stores. Its combination stores are typically 76,000 square feet in size, while its Fred Meyer stores have an average store size of 161,000 square feet.
The above comparison is for the latest fiscal year. The year-end dates for fiscal 2015 for the above retailers are as follows:
The Fresh Market: January 25, 2015
Kroger: January 31, 2015
Whole Foods Market: September 27, 2015
Walmart: January 31, 2015
Article continues below advertisement
Store sales and profitability
Not only does TFM have smaller stores but its stores also generate fewer sales per square foot than other grocery chains. Sales per retail square footage measure the average revenue generated for every square foot of sales space. In fiscal 2015, TFM had sales of $516 per square foot, compared with Kroger's (KR) $672 and Whole Foods' (WFM) $968 per square foot.
However, TFM stores saw better profitability than Kroger stores. TFM recorded a gross profit per square footage of $175 in fiscal 2015, against Kroger's $142 per square foot. WFM, however, had a much higher gross profit, with $340 per square foot.
ETF exposure and a look at what's next