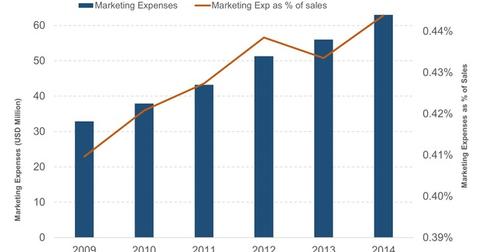 Evaluating Whole Foods' Marketing and Purchasing Strategies
By Sonya Bells

Nov. 19 2015, Updated 8:10 a.m. ET
Strategy overview continued
In the preceding part of this series, we discussed Whole Foods Market's (WFM) investment and private label strategies. In this part, we'll continue the discussion, shifting our focus to the company's marketing and purchasing strategies.
Article continues below advertisement
Marketing strategy
Whole Foods spends less on advertising and marketing than conventional supermarkets like Kroger Company (KR) and mass merchandisers like Wal-Mart Stores (WMT) and Costco Wholesale Corporation (COST). It relies primarily on word-of-mouth recommendations and customer testimonials. The company's marketing expenses have been less than 0.5% of sales over the past ten years as of fiscal 2015.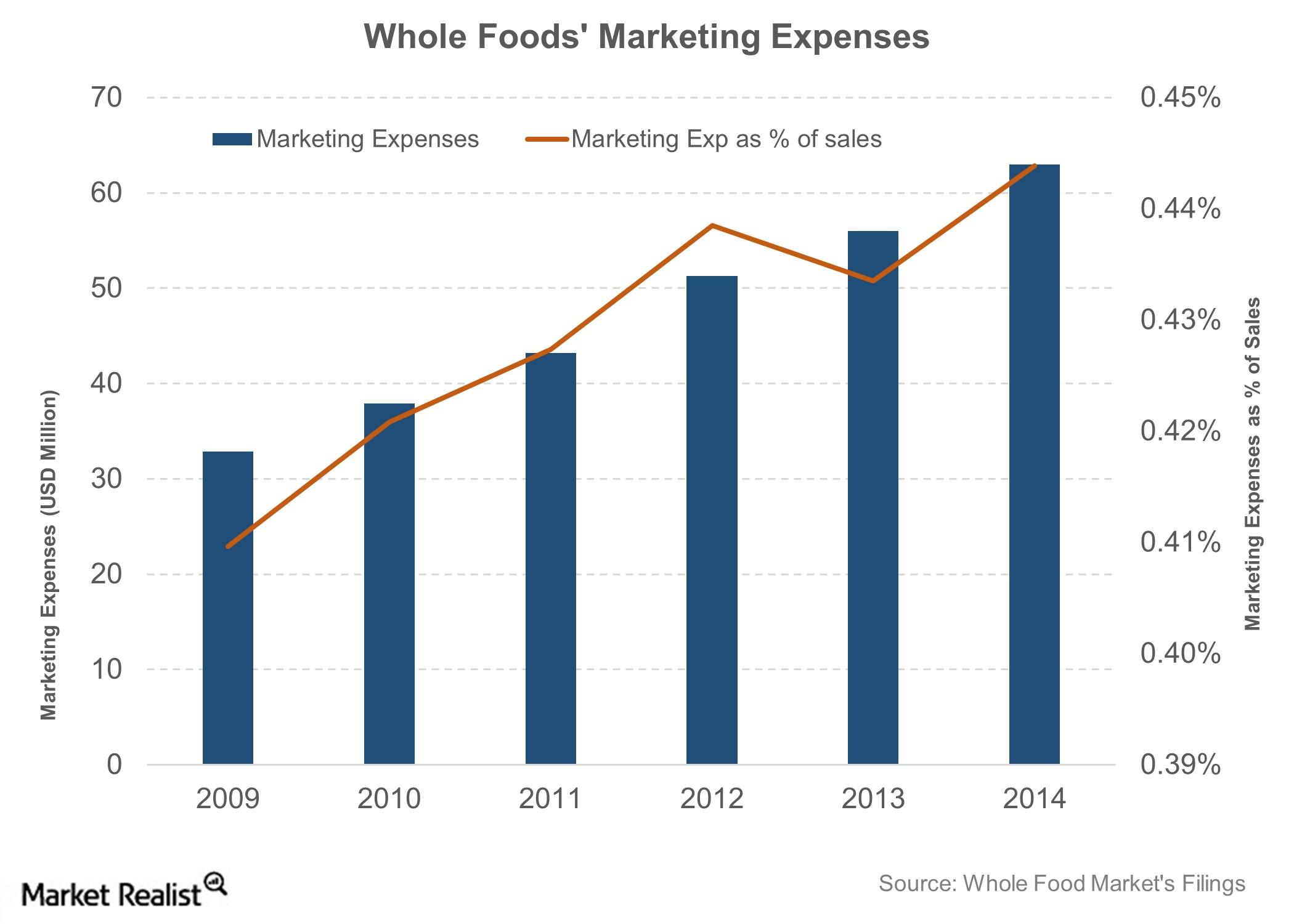 Corporate marketing is usually focused on engaging existing shoppers and growing their baskets by offering unique and additional products. The company also connects with customers through social media, e-newsletters, and its website.
In 2014, Whole Foods launched its first-ever national brand campaign, "Values Matter." The company invested between $15 million and $20 million for the campaign. By highlighting its sustainability standards, animal welfare, and the importance of healthy eating, Whole Foods attempted to restore customers' faith in Whole Foods' values, its prices, and its ethics.
Article continues below advertisement
Purchasing and distribution strategy
The majority of Whole Foods' purchasing occurs at the regional and national levels, which the company says enables it to negotiate better volume discounts with major vendors and distributors while allowing stores to focus on local products. The company also owns a produce center for the procurement and distribution of the majority of its fresh products.
Whole Foods operates four seafood processing and distribution facilities, a speciality coffee and tea procurement and brewing operation, and 11 regional distribution centers that focus mainly on perishables distribution across North America and the UK. In addition, the company also has three regional commissaries and five bakehouse facilities, all of which distribute products directly to stores. Other products are generally sourced through a combination of speciality wholesalers and direct distributors.
United Natural Foods is Whole Foods' largest third-party supplier and the primary supplier of dry grocery and frozen food products, accounting for approximately 32% of the retailer's total purchases in 2013. The company's relationship with United Natural Foods extends through 2020.
ETF exposures and what's next
Kroger Company (KR), Wal-Mart Stores (WMT), and Whole Foods Market (WFM) all have exposure to the SPDR S&P Retail ETF (XRT) and together account for 3.1% of the fund.
Continue to the next part of this series for a discussion of Whole Foods' efforts to shed the negative image of having high in-store prices.