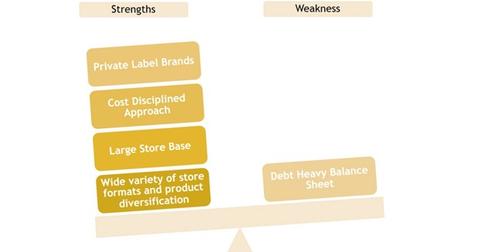 SWOT Analysis: Looking at Kroger's Strengths and Weaknesses
By Sonya Bells

Updated
SWOT analysis
In this post, plus Parts 18 and 19 of this series, we will do a SWOT analysis for Kroger (KR) and look at the strengths, weaknesses, opportunities, and threats for the company. We'll cover the key strengths and weaknesses of Kroger in this part. The next article will discuss opportunities and threats.
Article continues below advertisement
Strength: Wide variety of store formats and product diversification
Kroger offers a variety of products and services, including groceries, organic products, ready meals, jewelry, flowers, fuel, and in-store clinics. The customers may choose to shop at the stores or order online for delivery or pickup.
The products range from value, middle, and premium items. The stores range from discount stores like Food 4 Less to high-end stores like Fresh Fare. This offers customers convenience and product variety, and it boosts customer loyalty.
Strength: Economies of scale from large store base
Kroger has a much larger store base than many of its grocery peers (XRT). The company operates 3,770 stores in the US. Whole Foods Market Inc. (WFM) operates 399 stores, The Fresh Market Inc. (TFM) operates 169 stores, and Sprouts Farmers Market Inc. (SFM) operate 191 stores.
A larger store base allows the company to leverage its existing distribution network and manufacturing facilities. It also offers economies of scale in purchasing, manufacturing, information systems, and logistics.
Article continues below advertisement
Strength: Cost-disciplined approach
Kroger (KR) follows a disciplined low-cost strategy and applies the cost savings to lowering its product prices, thereby building customer loyalty and gaining market share.
The company's long-term efforts to reduce costs and cut prices has resulted in accelerated identical store sales. The company's identical store sales have seen positive growth for 47 consecutive quarters.
Strength: Private label brands
Kroger has always emphasized developing its own private-label products. Kroger's private-label brands comprised 25.1% of sales and 26.4% of units sold in fiscal 2015. The company benefits from its huge private label portfolio, as margins tend to be wider on private-label products.
Recently, Kroger's Simple Truth line became the top natural food brand in the US in terms of sales. The company's success with private brands also puts it in a strong bargaining position with its suppliers.
Weakness: Debt-heavy balance sheet
Kroger has a higher debt-to-equity ratio and a high debt-to-EBITDA ratio when compared to its peer group. It has a total debt-to-equity ratio of 2.1x as compared to 0.02x for WFM, 0.5x for WMT, and 0.6x for SFM.
The company's leverage ratio, defined as net debt to EBITDA, is also among the highest in its peer group. It stood at 2.1x as of January 31, 2015. According to the company's credit facility agreement, the company is required to maintain a leverage ratio below 3.5x. Failure to do so would result in a default by the company and would affect its ability to borrow.