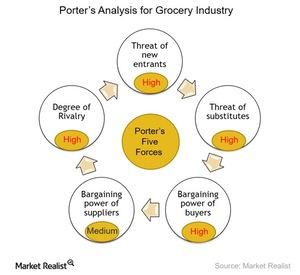 Porter's Five Forces Analysis for the US Grocery Industry
Porter's Five Forces Model
Developed by Harvard Business School professor Michael E. Porter, Porter's Five Forces Model is used for assessing the nature of competition and attractiveness of an industry. The model suggests that there are five forces that determine the attractiveness and long-term profitability of an industry or a sector:
degree of rivalry within the industry
the threat of substitutes
the threat of new entrants
bargaining power of buyers
bargaining power of suppliers
The following graphic illustrates the Porter's Five Force Model for the Grocery Industry:
Article continues below advertisement
Kroger overview
Kroger (KR) is a leading US supermarket chain with its competition mainly coming from Walmart Stores (WMT), Whole Foods Market Inc. (WFM), The Fresh Market (TFM), SuperValu (SUV), and Sprouts Farmers Market (SFM). As mentioned in the industry analysis section in Part 4 of the series, the grocery segment is dominated by the top four players that account for 36% of the market share in 2013. The main reason behind this increase in market share has been the continuous consolidation of the supermarket segment.
The grocery segment is characterized by low margins, as the food segment is prone to fierce competition and price cutting. The grocery retailers are able to achieve some customer loyalty by offering convenience and low prices, however, customers are free to choose stores and brands without incurring any additional costs.
Big players like Walmart (WMT) have immense bargaining power with suppliers due to their scale of operation. Barriers to entry for new players are generally low, however, scale can play an important role. Bigger players can create mobility barriers for smaller players due to advantages in purchasing, distribution, marketing, and finance. The smaller players cannot afford to compete on price, products offerings, and geographic coverage.
ETF exposure
Due their industry type, Kroger (KR) and its peers Walmart (WMT), Whole Foods (WFM), Sprouts Farmers Market (SFM), and The Fresh Market (TFM) are included in the portfolio holdings of the SPDR S&P Retail ETF (XRT). Together, they account for approximately 5.1% of the total index weight.
For more updates and analysis, please visit our Supermarkets page.