Breaking Down Nordstrom's Revenue Growth
In the last fiscal year, Nordstrom's revenue growth was 7.7%, a substantial number when compared to its peers.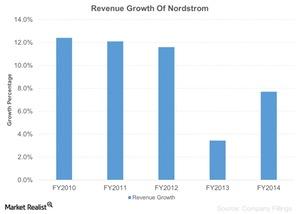 Revenue growth
Nordstrom (JWN) has been quite impressive when it comes to revenue growth. In the last fiscal year, revenue for the company increased by 7.7%, which is a substantial number when compared to its peers. Macy's (M) saw its revenue rise by just 0.62%, and Kohl's (KSS) saw its revenue fall by 0.04%.
Nordstrom has shown consistent growth in revenue over the years. Its CAGR (compound annual growth rate) in the last five fiscal years has been a commanding 9.3%.
The chart above clearly shows the high revenue growth that Nordstrom has been able to achieve over the last five years. How sustainable this growth will continue to be can be known only if we break down revenue growth into organic and inorganic growth achieved by the company.
Article continues below advertisement
Article continues below advertisement
Organic revenue growth
The organic growth of brick-and-mortar retail is measured by comparable store sales growth. Comparable store sales growth gives an idea about company-generated sales growth in the recent period, keeping business conditions unchanged.
Nordstrom's comparable store sales growth for fiscal 2014 was 4%. The company has averaged around 5.2% over the last five fiscal years. The comparable store sales growth of Nordstrom is quite high compared to its peers in the SPDR S&P Retail ETF (XRT). Macy's (M) had growth of just 0.7%, while Kohl's (KSS) and Sears Holdings (SHLD) were not able to post positive organic growth.
Inorganic revenue growth
Inorganic growth for a brick-and-mortar retail company refers to growth in its square footage, which can be attributed to the opening and closing of stores by the company. Nordstrom's growth in square footage for the last fiscal year was around 4%. In the last five years it has averaged growth of 3% in square footage.
A company that can manage to grow both organically and inorganically has the potential to sustain growth for a longer period into the future. Given Nordstrom's growth rates, sustainability does not seem to be an issue for the company.