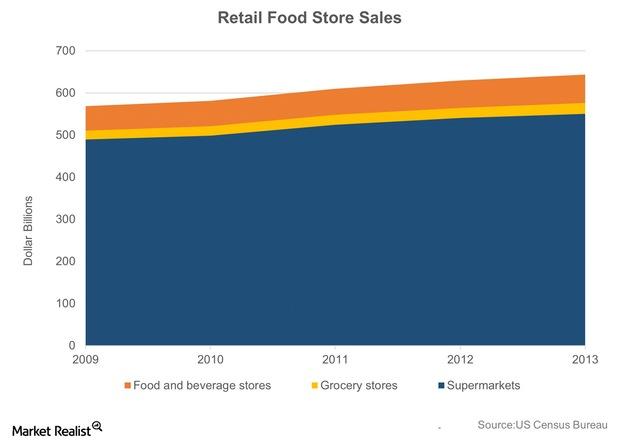 An Analysis of the US Grocery Market
By Sonya Bells

Nov. 2 2015, Updated 3:08 p.m. ET
US grocery market overview
Grocery stores, including supermarkets, account for the largest share of food store sales in the US. In 2013, grocery stores accounted for 90% of the country's food and beverage store sales, while supermarkets accounted for 95% of the total grocery store sales.
There has been an increase in market concentration in the US grocery segment. The top four players, which accounted for 17% of the total industry sales in 1992, had a larger piece of the pie—around 36%—in 2013.
Walmart Stores (WMT), The Kroger Co. (KR), Safeway, and Publix Super Markets were the top four players in 2013. This increase in market share was due to the continuous consolidation of the supermarket segment.
Article continues below advertisement
Peer comparison
Competition is also on the rise for the grocery segment. Larger players like Walmart Stores and Target, supermarkets like Kroger and Roundy's, as well as organic retailers such as Whole Foods Market and Sprouts Farmers Market are competing to woo customers with similar products and trying to increase their market shares.
Walmart (WMT), Target (TGT), Kroger (KR), Whole Foods Market (WFM), and Sprouts Farmers Market (SFM) are a part of the SPDR S&P Retail ETF (XRT) and together account for 5.1% of the ETF.
Supermarkets, the largest grocery retailer
Kroger is the largest supermarket operator in the US. The supermarket segment accounts for 93% of the company's sales.
According to a June 2015 report published by market intelligence firm Euromonitor International, supermarkets are the largest grocery retailing channel in the US and capture around one-third of the market share. The annual value sales for supermarkets stood at ~$365 billion in fiscal 2015, which ended January 31, 2015.
The supermarket industry is a mature industry and has established large players that dominate the market. Continued consolidation and a focus on organic and natural products are the major trends that dominated this industry.