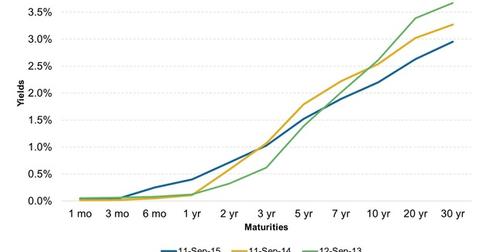 How Does the Treasuries Yield Curve Look over Time?
By David Ashworth

Sep. 15 2015, Published 3:43 p.m. ET
Flattening out?
A look at the graph below tells you a story. In the past two years, the yield curve has flattened substantially, specifically at the longer end. In September 2013, there was a clear distinction between yield levels of the three- and five-year notes and similarly, the five- and seven-year notes.
In September 2014, the distinction was less pronounced, but it was still there. In September 2015, this distinction has further decreased.
Article continues below advertisement
Treasury bills, which were trading at very similar levels in September 2013 and 2014, have seen their yields surge in 2015. For instance, the six-month Treasury bill was trading at 0.05% and 0.08% in the secondary market in September of 2014 and 2013, respectively. Presently, it is trading at around 0.25% levels. Similarly, the one-year Treasury bill was trading at 0.11% and 0.12% in September of 2014 and 2013, respectively. The Treasury bill of the same maturity is trading at 0.40% levels.
Treasury notes of two-year maturity have witnessed a similar trend, except that there was some distinction in the yields in September of 2013 and 2014 as well.
Fixed income market participants
The primary reason for this trend is that fixed income market participants have been selling short-maturity Treasuries in anticipation of a rate hike by the Federal Reserve. The FOMC (Federal Open Market Committee) convenes on September 16 and 17 to decide the course of monetary policy. The decision regarding the federal funds rate will be the focus of market participants.
Investors in equities, especially financials and insurers like U.S. Bancorp (USB), JPMorgan Chase & Co. (JPM), and Allstate (ALL), would be cued in for the result of this meeting. Investors in mutual funds that invest in Treasuries such as the MFS Government Securities Fund (MFGSX) and the JHancock Government Income Fund (JHGIX) should also be impacted by the outcome of the meeting.
In the next article, let's look at how long-term yields have behaved and what a flat yield curve means.