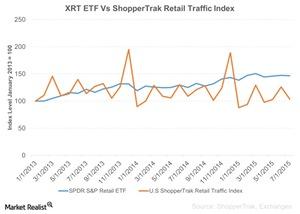 What Does the ShopperTrak Retail Traffic Index Indicate?
About the index
Retail traffic dipped in July 2015 after increasing in June 2015. The July numbers came in 17% below what was recorded by ShopperTrak in June. Retail traffic can be a major indicator for consumer sentiments towards future spending, as a continuous drop in this number can be a red flag for the retail sector, as no economist can deny its relation with the retail sector as a whole.
SRTI (ShopperTrak Retail Traffic Index) is one of the most well known indexes for understanding the consumer behavior for the period in the United States. It is a monthly index that measures retail traffic volume in the said period. It provides consumer traffic numbers for the following retail segments:
total US retail
enclosed malls
retail sales
apparel and accessories
wireless and electronics
home furnishings and accessories
Article continues below advertisement
What do these numbers mean?
A decrease in the SRTI Index could mean that consumers are reluctant to go to the stores and buy goods, which is a negative signal in the market. This index can sometimes be very volatile, as the above chart shows. Thus, a moving average over a six-month to one-year period can be a better measure to compare for analyzing this index. However, the July numbers are below the average for the last 12 months. Consumer traffic correlates to retail sales, but the correlation is in the lower positive numbers, as increase or decrease in traffic does not confirm retail sales change. The conversion rate is more important, though consumer traffic still acts as a major indicator in the retail sector.
Why these numbers are important
Brick and mortar stores like Macy's (M), Nordstrom (JWN), GAP (GPS), and Walmart (WMT) that are part of the SPDR S&P Retail ETF (XRT) care a lot about retail traffic indicators, as they help them with their decision making. Investors also keep a close eye on these numbers to project the future of the companies.