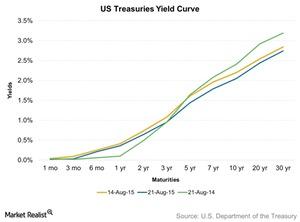 Treasury Yields Fall on Rate Hike Timing Uncertainty
By Lynn Noah

Updated
Secondary market
Treasury yields tumbled across the yield curve in the week ended August 21, 2015, with a falling stock market and a dovish outlook of the Fed minutes. Three-to-thirty-year maturity Treasuries' yields fell by double digits in the 10-to-17-basis-point range.
The yield on the benchmark ten-year Treasury note tanked 15 basis points week-over-week, ending at 2.05%.
Article continues below advertisement
FOMC meeting minutes
The US Federal Reserve released minutes from the July 28–29 Federal Open Market Committee (or FOMC) meeting on August 19. Yields fell after the minutes, as there was no clear indication on the timing of an interest rate hike from the Fed.
The minutes said that most FOMC members judged that the conditions for policy firming hadn't been achieved but they noted that conditions were approaching that point. Participants observed that the labor market had improved notably since early this year, but many saw scope for some further improvements.
Domestic economic indicators also affect yields
A host of economic indicators were released last week, with improving housing data being the most prominent. Housing starts were up 0.2% in July month-over-month, adding 1.2 million houses. Also, the annualized consumer price index (or CPI) was up 0.2%. However, falling crude oil prices may lead to low inflation, which in turn would subdue the Fed's confidence in raising interest rates.
Article continues below advertisement
Fear of a global slowdown
The fear of a global slowdown led to a decline in the US stock market, which pushed Treasury yields down. The slowdown in China is further cemented by the preliminary reading of the Caixin purchasing managers' index (or PMI), which came in at 47.1 points for August compared to 47.8 points in July. China also surprisingly devalued its currency for three consecutive days against the dollar, which has made US goods less attractive in the international market. Revenues of companies like Monsanto (MON), Staples (SPLS), and General Motors (GM) have been affected by the strong dollar.
Investment impact
The fall in Treasury yields across the yield curve led to a rise in associated mutual funds, as prices and yields are inversely related.
The T. Rowe Price GNMA (PRGMX) rose 0.38% for the week while the American Century Ginnie Mae A (BGNAX) rose 0.41% for the week ended August 21.
In the next article of this series, we'll look at the auction of five-year TIPS.