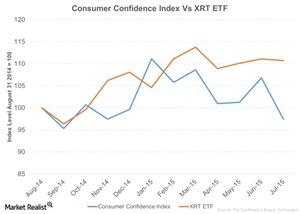 How Are Consumer Confidence and the Retail Sector Related?
Consumer confidence and the retail sector
Consumer confidence is one of the major factors that affect consumer spending. As a result, the retail sector has had a direct relationship with this metric. Investors look at this metric to understand retail companies' prospects. When consumer confidence in the economy increases people tend to feel secure with future income prospects and employment conditions. This security gives them the liberation to spend more and save less for the future. This is a big plus for the retail sector and its future. This relation can be seen by comparing the Consumer Confidence Index and the SPDR S&P Retail ETF (XRT).
Article continues below advertisement
As you can see in the above chart, XRT—which could be substituted for the US retail sector—has shown a positive relation with the Consumer Confidence Index. The correlation between the index and XRT stands at around 0.45. If we discuss a particular sub-sector, then department stores and apparel companies like GAP (GPS), Urban Outfitters (URBN), Macy's (M), and Kohl's (KSS) would be affected the most by a rise or fall in consumer confidence.