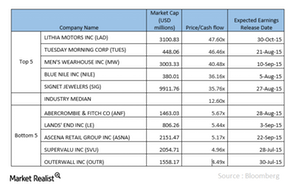 How Are Brick and Mortar Retail Companies Valued?
Brick and mortar retail
Companies that operate through chains of retail stores are referred to as brick and mortar retail. Companies like GAP (GPS), Macy's (M), and Kroger (KR) are some huge brick and mortar retail companies with market caps of $15.78 billion, $22.45 billion, and $18.55 billion, respectively. The models for these companies are such that they derive their growth from increasing their market share growth and sales.
Article continues below advertisement
These companies have high inventory levels and are very capital-intensive companies that require a significant amount of working capital and capital expenditure to run their business and grow in the market. Thus PCF ratio (price-to-cash-flow ratio) gives us an idea about how expensive or how cheap the stock is trading relative to its peers after meeting its working capital and capital expenditure requirements.
Why price to cash flow?
The most important reason for valuing companies like Dollar Tree (DLTR) using the PCF ratio is that the measure describes how the market is valuing their ability to operate in a capital-intensive industry while factoring in how the market looks upon respective growth sentiment. Compared to earnings or sales, companies find it difficult to manipulate the cash flow metric, as it is the cash received in that period, which is not affected by the accounting treatment of depreciation or any revenue recognition policy.
As the above table shows, we can get an idea about which companies are expensive and which are trading rather cheaply in the SPDR S&P Retail ETF (XRT) on a PCF basis. Having said this, it is also true that no equity analyst at Wall Street would analyze a business only on one multiple. Thus, the price-to-earnings or price-to-sales ratios should be used in tandem with PCF.
In the next article, we will have a look at the e-retail side of the retail sector.