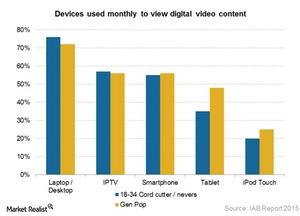 The Must-Know Business Trends Affecting Netflix
Netflix is influencing a shift in the entertainment world
Netflix (NFLX) has changed both the OTT (over-the-top) and the pay-TV landscape completely. Netflix is grabbing eyeballs with its original content and taking advantage of an audience prone to hyper-consumption or binge viewing. This sets Netflix apart from other linear pay-TV networks such as Comcast (CMCSA) and Dish Network (DISH). Netflix offers its viewers the flexibility to watch its content on demand for as many hours as they want and on any screen.
Article continues below advertisement
According to an IAB report, a large portion of the population between the ages of 18 and 34 is viewing digital video content on electronic devices such as laptops and desktops or smartphones. People in this age group have either never subscribed to pay-TV (cord nevers) or have stopped subscribing to pay-TV (cord-cutters). Netflix is increasingly catering to this population.
Competitive threats are increasing for Netflix
Netflix is facing increasing competition from pay-TV providers such as Comcast, media companies such as Time Warner (TWX), and ISPs (Internet service providers) such as Verizon (VZ). These enterprises and others are increasingly entering the OTT business. Linear TV networks such as CBS (CBS) are offering programming on-demand through phone apps, smart TVs, and Internet-connected devices such as Google's (GOOG) Chromecast.
As Netflix is expanding internationally, video piracy could turn out to be another concern for the company. Viewers could stream Netflix's original content for free instead of paying for Netflix's membership, and that could dent the company's revenues in the long run.
It remains to be seen how Netflix will counter video piracy and competition from the streaming services of pay-TV providers.
You can get diversified exposure to Google by investing in the iShares Core S&P 500 ETF (IVV), which invests 0.87% of its portfolio in the stock.