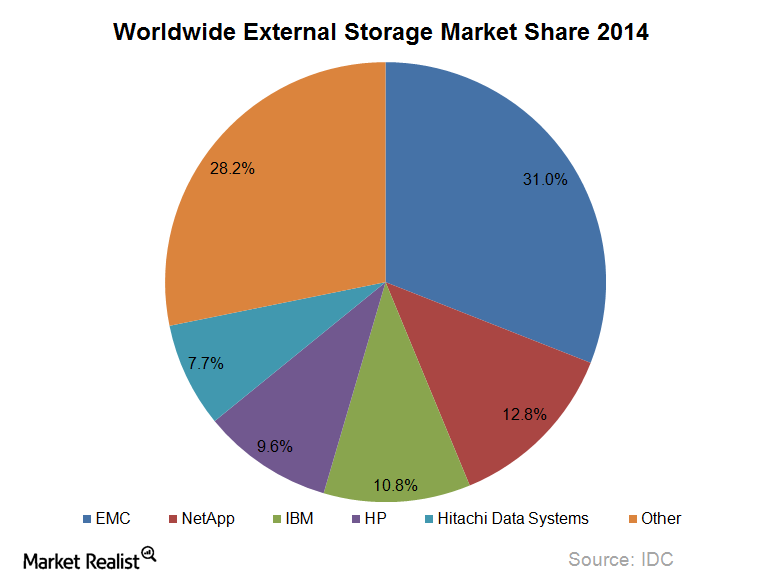 What Prompted HP to Sell Its Majority Stake in H3C in May?
HP is the first technology company to give control to native Chinese owners
As we discussed in the previous part of the series, on May 22, 2015, HP (HPQ) announced the sale of its majority stake in H3C to Tsinghua Holdings. Through this sale, HP became one of the first prominent US technology companies to give control to native Chinese owners. This move is of significant importance, because recently the Chinese (MCHI) government has spruced up its efforts to tighten the cybersecurity laws against foreign technology companies.
In late 2014, Bloomberg stated that China wants to end the use of foreign technology in the primary sectors by 2020. Thus, it is clear that China has and will always encourage the use of local suppliers.
The above chart shows the market share that players in the global external storage space hold. EMC (EMC) with 31% market share is the leader in this space. Among the top five players, HP was the only player that registered a positive 1.6% YoY (year-over-year) growth.
Article continues below advertisement
Article continues below advertisement
China is strategically ousting technology players
In 2014, use of Microsoft's (MSFT) Windows 8 was banned on Chinese government computers and Chinese banks were encouraged to switch over from IBM (IBM) servers.
In February 2015, Chinese regulatory authorities fined Qualcomm 6 billion yuan, or approximately $975 million, for its mobile phone technology licensing practices on the grounds of China's anti-monopoly law. In mid-2014, a location-tracking function on Apple's iPhone was called a "national security concern" by Chinese broadcasters.
Thus, HP's sale of its stake in H3C to a Chinese company is seen in a positive light, considering the backlash US IT companies are facing in China. Also, it appears that HP wants to hold on to only those operations that are "less politically sensitive," as reported by the Wall Street Journal.