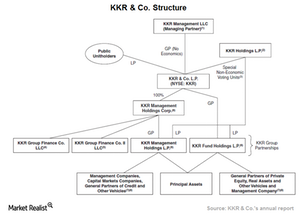 How KKR structures its investment vehicles
KKR's investment vehicles
KKR & Co. L.P. (KKR) structures its investment vehicles as a partnership or combination of separate domestic and overseas partnerships. The limited partners contribute capital toward the fund to be deployed in qualifying investments during the investment period.
KKR has more than 700 limited partners in funds across all the offerings. A partnership structure or investment fund also has general partners that make investments and operational decisions related to the conduct of the fund's business.
General partners are typically the managing directors in a private equity firm. They make decisions related to making, monitoring, and disposing of investments.
Article continues below advertisement
The funds are managed by the general partners, who are responsible for the raising, deployment, and exit decisions. KKR's general partners manage the various funds through KKR Management LLC. The usual term of the private equity fund is ten to 12 years, which can be altered only with the consent of the limited partners.
Investments by general partners
General partners, in order to reflect their commitments to manage the funds, invest their own capital alongside the limited partners.
Private equity firms such as The Blackstone Group (BX), The Carlyle Group (CG), and Apollo Global Management (APO) as well as asset managers that form part of the Financial Select Sector SPDR Fund (XLF) have witnessed the general partners' commitments to the investment funds.
KKR's general partners have contributed more than $9.8 billion in the form of commitments of investments, forming approximately 10% of the total assets under management. The commitments are run through the balance sheet, commitments for the investment funds, and personal investments.