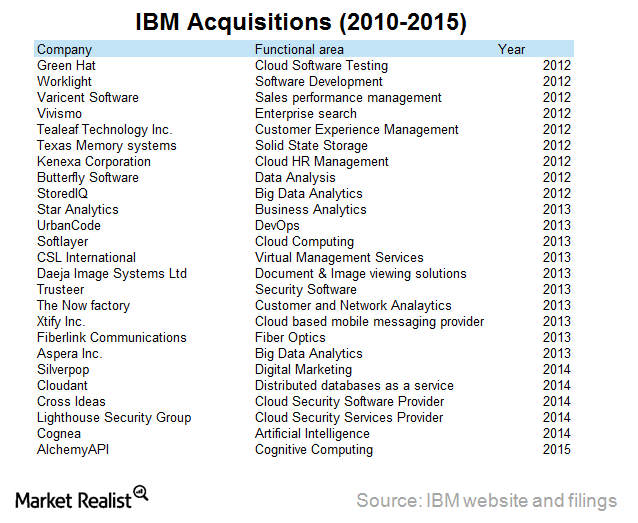 Why IBM Has Spent Billions in Cloud Acquisitions
<p>IBM (IBM) intends to fuel its growth in the cloud space through the investment of billions of dollars, as well as strategic acquisitions.</p>
IBM has acquired diverse cloud companies to enhance its reach and technology expertise
As mentioned in the earlier part of the series, IBM (IBM) intends to fuel its growth in the cloud space. The company aims to achieve this objective both by investing billions of dollars, as well as strategic acquisitions. IBM acquired cloud companies like Cloudant, Sliverpop System, CrossIdeas, Lighthouse Security Group, and AlchemyAPI that are expected to alleviate its horizon and technology expertise in this space.

In February 2014, IBM acquired Cloudant, which offers a database as a service to enhance its position in the cloud database space.
Article continues below advertisement
Article continues below advertisement
In April 2014, IBM acquired Silverpop in order to strengthen and expand its reach in the digital marketing space. Silverpop offered a cloud marketing platform that enabled marketers to gain insight into customer activity online. In this space, Oracle (ORCL) and Salesforce.com (CRM) acquired Responsys and ExactTarget for $1.5 billion and $2.5 billion, respectively.
In July 2014, IBM acquired CrossIdeas to expand itself in the IT security market. The majority of its customers belong to highly regulated industries, like banking, the public sector, manufacturing, energy, and government bodies. This acquisition is expected to bolster its control tools, identity, and governance solutions, which is a key requirement for its customers. CrossIdeas was a provider of identity governance and analytics software. In August 2014, the company acquired Lighthouse Security Group to solidify its presence in cloud security space.
IBM recently acquired AlchemyAPI to enhance Watson capabilities in cognitive computing, deep learning, and the big data space. As mentioned in the earlier part of the series, this space has also seen acquisitions by Yahoo (YHOO), Twitter, and Google.
To gain diversified exposure to IBM, you can invest in the Technology SPDR (XLK). XLK invests 3.51% of its holdings in IBM.
The cloud space is poised for huge growth
According to Allied Market Research, Cloud services stood at approximately $209.9 billion in 2014. It is expected to reach a market size of $555 billion, growing at a compound annual growth rate (or CAGR) of 17.6%. Infonetics Research expects the public cloud market to become a $200 billion market by 2018. Looking at the high growth expected in the cloud space, IBM has poured billions into this space and expects this stream to contribute 40% to overall revenues by 2018.