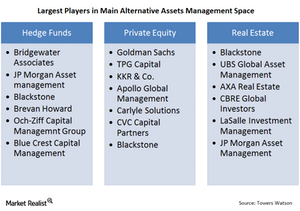 The many players in alternative asset management
The main players in the alternative asset management space
The alternative asset management space is highly fragmented and has few dominant players in any of its segments. Some players are present across the spectrum of alternative assets, but most alternative asset managers are present only in a particular asset area. The most diversified managers are present across the entire spectrum, and work with active, passive, and alternative assets.
One of the reasons for the wide selection of players in this space is that a large number of successful asset managers have branched out to set up boutique firms of their own.
In the hedge fund space, Bridgewater Associates, a limited partner firm founded by the venerable investor Ray Dalio, is the largest player. It's followed by JPMorgan Chase, Och-Ziff Capital Management Group (OZM), and BlackRock.
In the private equity space, the largest player is the Carlyle Group (CG) followed by KKR & Co. (KKR) and the Blackstone Group (BX).
In the real estate space, CBRE Global Investors and LaSalle Investment Management are some of the largest players.
Article continues below advertisement
Are you are an investor that wants a piece of the growing alternative asset management space but don't understand it well enough to take the risk? You may still get exposure with the IQ Hedge Multi-Strategy Tracker ETF (QAI). This is an ETF that tries to replicate strategies used by alternative asset managers.