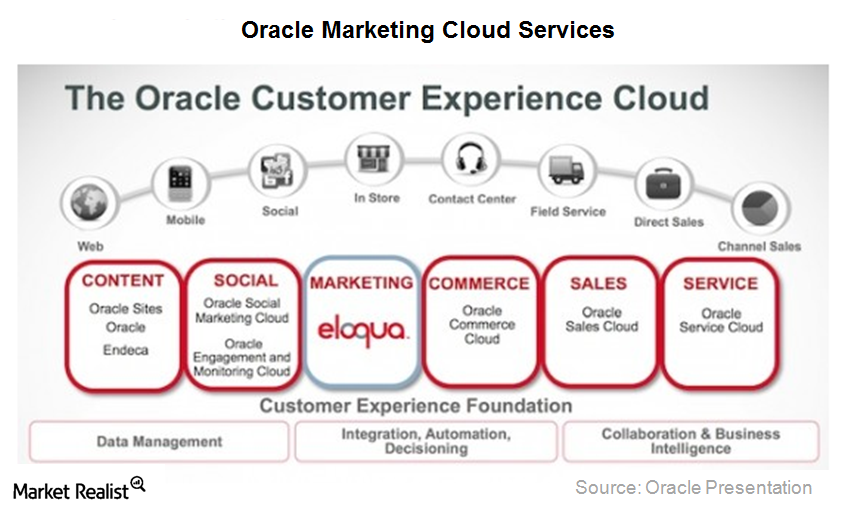 Why Oracle's Marketing Cloud is integral to its growth
Oracle's Marketing Cloud launched
In late April 2014, Oracle (ORCL) announced the launch of the Oracle Marketing Cloud, a platform that combines the technology Oracle acquired from its acquisitions of Eloqua, Compendium, Responsys, and BlueKai.
If Oracle's Marketing Cloud posts positive results, it is expected to benefit ETFs like the PowerShares QQQ Trust (QQQ) and the Technology Select Sector SPDR Fund (XLK) that have significant exposure to Oracle.
Article continues below advertisement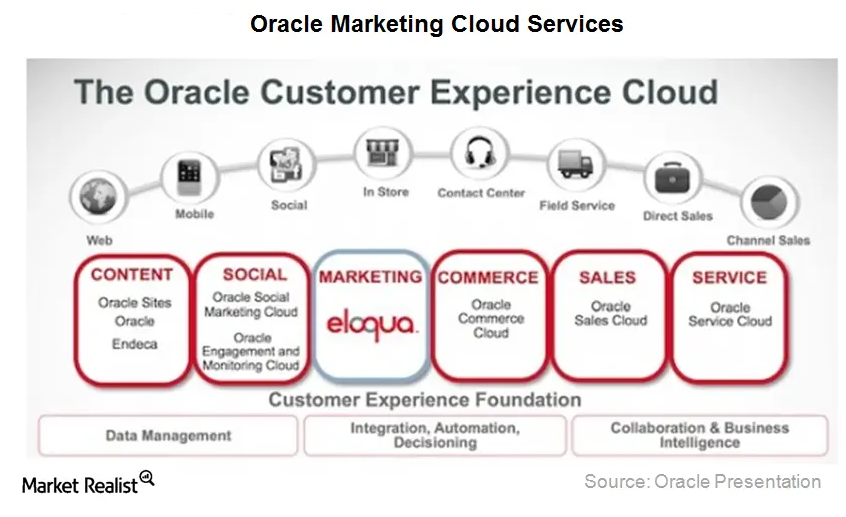 Key features
Oracle's Marketing Cloud allows customers to run marketing campaigns and manage data related to those campaigns on the web, social media, mobile, and email. Marketing Cloud encompasses core marketing functionality that includes data services, automation, targeting, and content. Oracle's Marketing Cloud also integrates with Oracle's existing Social Cloud and includes tools for content marketing, as shown in the above chart. Oracle's Social Cloud has access to LinkedIn's (LNKD) Application Programming Interface (or API) for marketing purposes.
Article continues below advertisement
The three unique points of Marketing Cloud as highlighted by the management include simplicity, readiness for enterprise use, and "customer-centricity." Marketing Cloud is expected to "provide marketers with the most advanced and easy-to-use cloud-based solutions for unifying customer data, engaging the right audiences across paid, owned, and earned media, and analyzing performance."
Oracle extends integrations across Oracle Marketing Cloud
According to a Forrester Research report, 82% of marketers lack a single unified view of the customer that results in failure to target customers appropriately across channels and risk damaging customer relationships with irrelevant promotions or messaging.
In October 2014, Oracle announced integrations across Oracle Marketing Cloud to deliver customer-centric solutions. By integrating the Oracle Data Management Platform solution (formerly BlueKai Data Management Platform) with Oracle Cross-Channel Marketing, the company aims to help marketers define, target, and retarget their ideal customers to build more effective marketing programs.
The NBA's Golden State Warriors enlisted ~300% more Twitter (TWTR) followers, and Zurich NA saw a 10% increase in retention by using Oracle's Marketing Cloud.