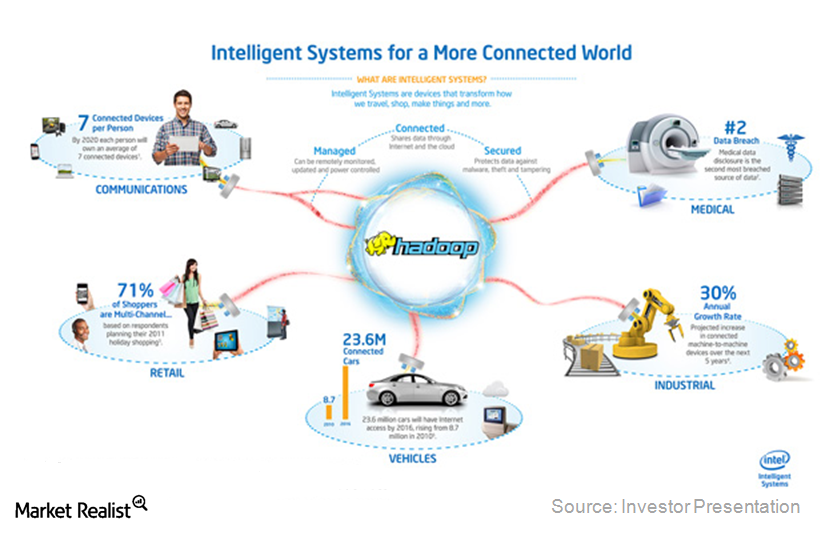 Why "big data" and IoT are important to Intel's growth
Intel diversifies its offerings and markets
According to general consensus, the PC market is expected to decline or post flat growth. Enterprise and mobile are important for technology companies' long-term growth. The enterprise computing world is quickly moving from proprietary, scale-up systems to open source or open core systems and distributed architectures. Data has become the new currency. Hadoop supports the processing of large data sets. It's at the core of this transformation.
Article continues below advertisement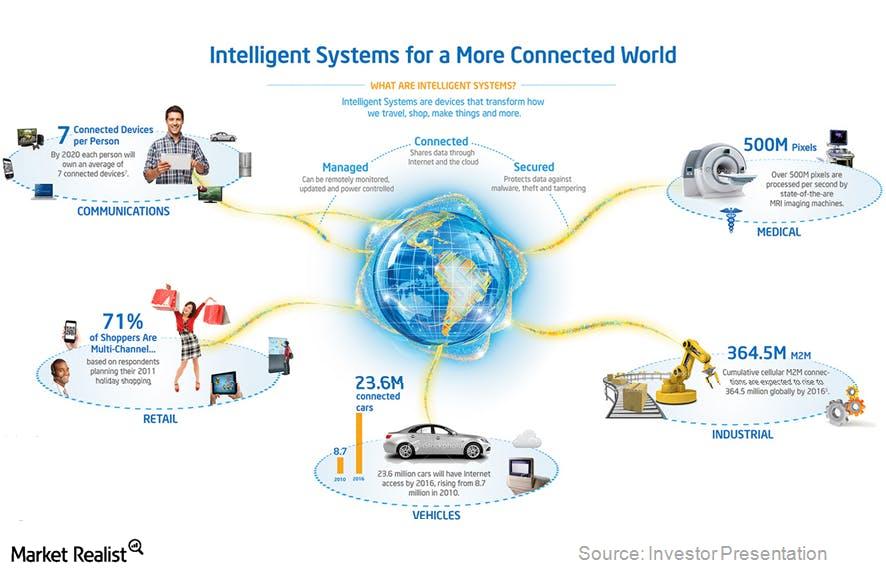 Intel invested in Cloudera
In March 2014, Intel (INTC) announced that it invested $740 million in Cloudera—in return for an 18% stake ownership in the company. According to Silicon angle, this is the largest investment, a private software company has ever witnessed.
All the big technology players—IBM Corp. (IBM), SAP (SAP), Teradata (TDC), and Microsoft (MSFT)—want to have a place in the "big data" platform. They've invested huge funds to secure a position in the data management market.
With investment in Cloudera, Intel has influential stake in the leading Hadoop vendor. It can integrate its x86 architecture with Cloudera's platform to produce more nodes and ship more Intel chips.
Article continues below advertisement
Investment according to Intel's focus on IoT
Intel is focused on Internet of Things (or IoT). It's developing new lines of chips to connect the physical world with the Internet.
As discussed in the earlier part of the series, Intel launched Edison—a processor with built-in wireless capabilities. According to Intel, Edison's small size, relatively low cost, and wireless computing capabilities make it a useful building block for a variety of uses.
According to Doug Davis, vice president and general manager of Intel's Internet of Things group "85% of today's devices with embedded computing aren't currently connected to the Internet."
This presents IoT as a ~$19 trillion opportunity. By 2020, 50 billion devices are expected to be connected to the IoT. This will lead to 35 zetabytes worth of data generation. All this data needs a platform so that it can be analyzed to build data-driven services. Intel and Cloudera's investment could serve as a platform. A Cloudera-based analytics and application development platform could be optimized to crunch and analyze data flowing from Intel chips. It would play an integral role in Intel's IoT initiative.
Learn more about the Intel's focus on IoT by reading Market Realist's series, "Intel's focus on the Internet of Things should boost its growth."