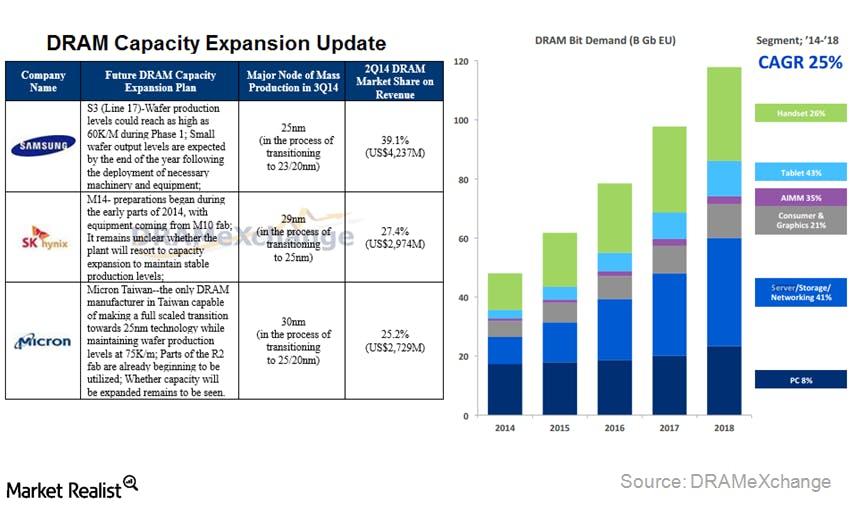 Why Micron's position in the DRAM market may be under threat
DRAM market is an oligopoly
As mentioned in Part 1 of this series, the top three players in the DRAM market—Samsung Electronics, Ltd.(SSNLF), SK Hynix Semiconductor(HXCSF), and Micron Technology, Inc. (MU)—together control more than 90% of the market. Owing to the oligopolistic nature of the market, any move by one of these player is carefully scrutinized.
Article continues below advertisement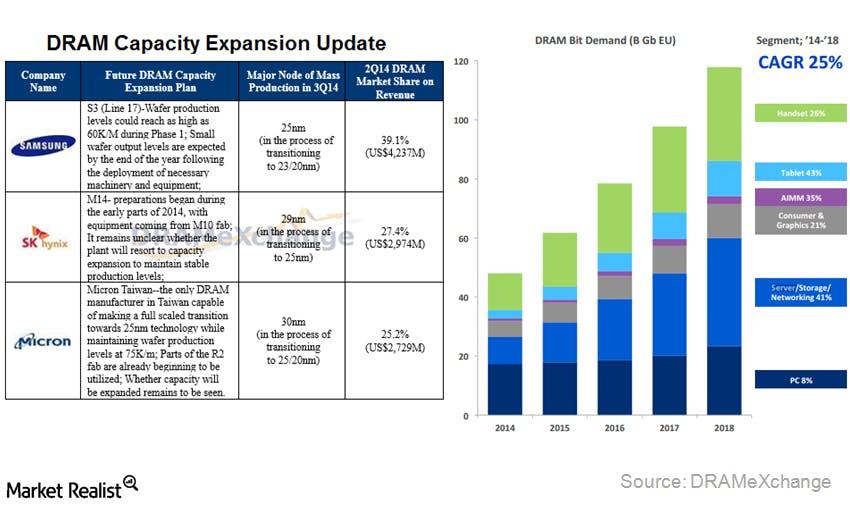 DRAM oligopoly may face disruption
According to DRAMeXchange, the DRAM market supply is expected to tighten. This would lead to DRAM manufacturers expanding their capacity in the last quarter of 2014.
Bit supply is expected to grow by ~30% in 2015. This could pose considerable challenges to the key players' dominance, especially Micron's. According to Avril Wu, AVP of DRAMeXchange, a key concern arising from this capacity expansion is oversupply, which could eat into producers' profit margins.
If Micron's operations face disruption, it will impact the iShares PHLX Semiconductor ETF (SOXX) and the VanEck Vectors Semiconductor ETF (SMH), both of which are heavily invested in Micron.
Samsung poses a threat to Micron
In March 2014, Samsung began mass production of dynamic DRAM using 20nm process technology. The technology will enable the company to produce energy-efficient DDR3 memory at reduced manufacturing costs. This will give Samsung a competitive edge over its peers.
Article continues below advertisement
As the chart above shows, Samsung is the only player in the industry that has announced plans to set aside major portions of its S3 plant's capacity for DRAM production. Samsung is expected to initiate manufacturing of DRAM wafers by the end of 2014, with a focus on PC DRAM. In the second half of 2015, its maximum S3 DRAM capacity is expected to reach 60,000 per month.
In response to this news, both Micron and SK Hynix have announced plans to expand production. Micron has ~25% of its current production in PC DRAM. As the chart shows, Micron is focused on high-growth, mobile, server, and networking markets.
20nm technology is economic and energy efficient
Samsung claims its 4GB DDR3 DRAM chips made using 20nm technology have over 30% and 2X more manufacturing productivity than that of its preceding 25 nanometer DDR3, and 30nm-class DDR3, respectively. Also, these chips save up to 25% more energy than 25nm process technology.
Micron currently manufactures its DDR3 DRAM using 30nm technologies. This makes its products much more expensive to manufacture. Micron is keen to expedite migration from the 25nm processes to the 20nm processes. In 2Q14, Micron's 20nm production proportion surpassed 50%. Manufacturing costs of 20nm NAND flash products are less than that of the 25nm products, providing significant cost efficiency to the company.
The fact that Samsung took an early lead in the use of 20nm technology for DDR3 memory is potentially damaging to Micron. Even though Micron is strongly positioned in the DRAM market, its DRAM pricing and market share may be threatened.