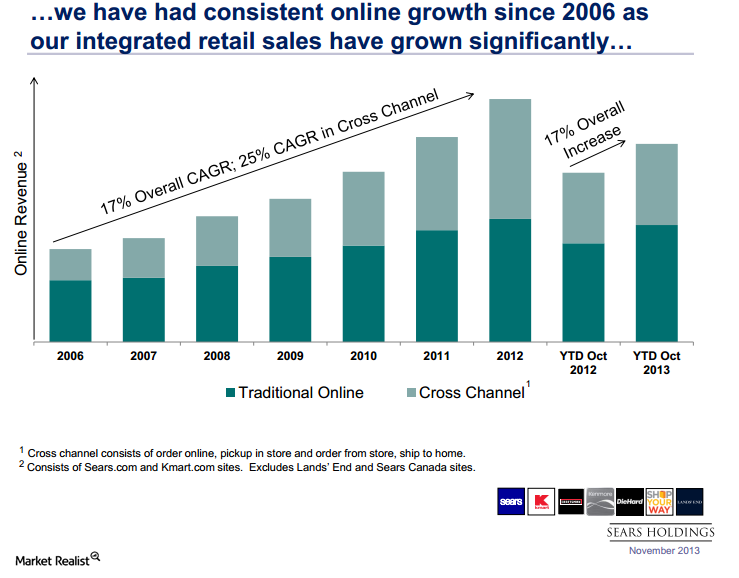 Must-know update: DE Shaw increases its position in Sears Holdings
DE Shaw increased its position in specialty retailer Sears Holdings (SHLD) from 0.01% to 0.07% in 4Q 2013.
Sears shares were down around 15% last month after the company provided an update on its quarter-to-date performance and financial position. The retailer expects a 4Q adjusted loss of $2.01-$2.98. Total domestic comparable store sales for the quarter-to-date period declined 7.4% and comprised decreases of 5.7% at Kmart and 9.2% at Sears Domestic. Owner and CEO Eddie Lampert has been trying to turnaround the struggling big-box retailer for years. In December, Bloomberg reported the billionaire hedge fund manager Lampert's ESL Investments cut down its stake from 55% to 48% to meet redemption requests from hedge-fund clients.
Article continues below advertisement
Lampert was responsible for the merger of Sears with Kmart Holding Corp. in 2005. Sears has been struggling since the merger and has posted 27 straight quarterly sales declines. The only improvement seen was in its online sales last year (as illustrated in the presentation slide above). For improving cash reserves, the company has been selling or spinning off its assets including Sears Hometown and Outlet Stores, Orchard Supply Hardware Stores, Sears Auto Centers, clothing retailer Lands' End, store leases at Sears Canada, and more in other prime locations. Sears Canada last month said it is laying off more than 1600 workers and will close its store in Chicago due to declining sales.
Lampert has been focusing on Sears' digital operations and Shop Your Way (SYW) rewards program as part of the company's transformation to a member-centric integrated retailer. The company said it is "seeing continued increases in our SYW member engagement metrics with 69% of our sales in the nine-week period ended January 4, 2014 derived from members as compared to 58% last year."
Baker Street Capital Management's Vadim Perelman in September issued a report titled The Case for Sears Holdings, which concluded that the company's real estate is worth more than $7 billion. Baker Street is Sears's ninth-biggest shareholder and said in the presentation that its "property-by-property real estate appraisal found that at least $7.3 billion of value lies at the top 350 owned and 50 leased locations" and a "redevelopment potential could boost today's value of the top 350 Sears properties to ~$12 billion." This is more than Sears' current market cap of $4.41 billion.
Despite the above assumptions, analysts have been bearish about the stock. Peers include Wal-Mart Stores, Inc. (WMT), J. C. Penney (JCP), Macy's (M), and Best Buy Co., Inc. (BBY).
Sears Holdings Corporation operates as a specialty retailer in the U.S. and Canada. The company provides home appliances, tools, lawn and garden equipment, electronics, automotive repair, and maintenance products through a countrywide network of nearly 2,500 retail stores. The flagship brands of the company include leading product labels like Kenmore, Craftsman and DieHard, Jaclyn Smith, Joe Boxer, Apostrophe and Covington.