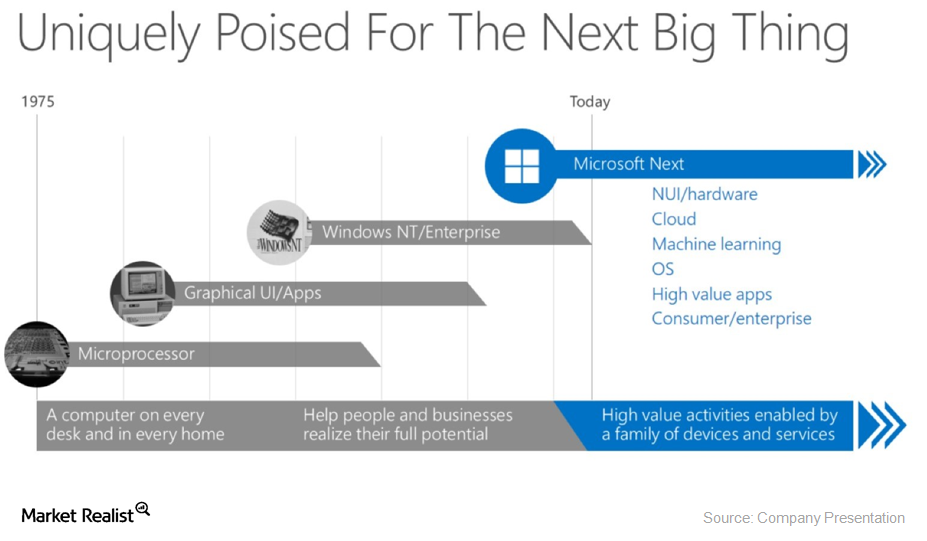 A guide to Microsoft's shift from software to devices and services
Microsoft overview
Founded in 1975, Microsoft Corp. develops, licenses, and supports a range of software products and services. The company is based in Redmond, Washington, and it also designs and sells hardware and delivers online advertising to its customers. The company is best known for its Microsoft Windows line of operating systems, Microsoft Office softare suite, Internet Explorer web browser, and Xbox gaming consoles.
Article continues below advertisement
Article continues below advertisement
The company's mission is to enable people and businesses throughout the world to realize their full potential by creating technology that transforms the way people work, play, and communicate. The tech behemoth believes its software, services, and hardware devices deliver new opportunities, greater convenience, and enhanced value to people's lives.
Microsoft is currently in the process of transforming itself from a software player to a "devices and services company" in an organizational overhaul aimed at improving sales and MSFT's competitive position. Microsoft is also on the lookout for a new CEO after Steve Ballmer announced plans to step down six months ago. Microsoft's $7.2 billion acquisition of Nokia's devices and services business last year was in line with this transformational move.
By transforming into a devices and services company, Microsoft aims to primarily monetize high-value activities by leading with devices and enterprise services. The consumer x86 PC market is declining, as users have continued to prioritize devices with touch and mobility. At the same time, Microsoft's enterprise products and cloud solutions are seeing continued strength, and adoption of Microsoft's consumer services has increased. After missing revenue expectations in four out of the five previous quarters, Microsoft beat analyst expectations in 1Q 2014 earnings on the back of strong growth in the company's enterprise and consumer segments.
In the new model, the company's consumer services, such as Bing and Skype, will differentiate Microsoft's devices and serve as an on-ramp to its enterprise services while generating some revenue from subscriptions and advertising. Enterprise services will remain an area of strength, growth, and opportunity as businesses of all sizes look to move to a cloud, manage a growing number of devices, tap into big data, and embrace new social capabilities. Recent unconfirmed reports revealed that Microsoft, via a project code named "Threshold," is planning a series of updates to Xbox One, Windows, and Windows Phone aimed at sharing common elements across the three operating systems.