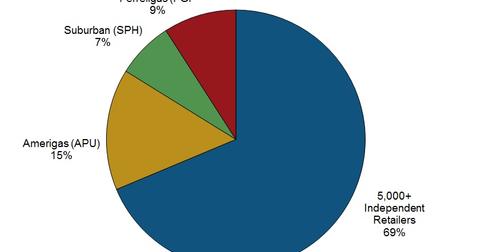 Why higher borrowing costs could deter propane name acquisitions
By Ingrid Pan

Updated
Propane distributors grow though acquisitions
Part of the business model of propane distributors such as Suburban Propane (SPH), Ferrellgas Partners (FGP), and AmeriGas (APU) is to expand through acquisitions. Currently, the top three propane retailers serve ~30% of the market, with the rest of the market fragmented into 5,000+ independent retailers. One of the growth strategies of the big three is to acquire these smaller retailers, and these companies are constantly on the lookout for potential acquisition opportunities.
For example, APU noted in its most recent earnings call that now that it has sufficiently integrated its Heritage acquisition, it's again on the lookout for smaller tuck-in buys.
Article continues below advertisement
Eric Shiu, Wells Fargo Securities, LLC, Research Division: "Just following up on that acquisition question. So given that the—I guess the Heritage integration is largely complete. Are you guys starting to actively look at new acquisition opportunities, and I guess what does that market look like right now?
Kirk R. Oliver, former chief financial officer and senior vice president of APU: "We are. And that we really did take a pause on acquisition activity but our corporate development team has now turned away from acquisition integration and back on the road meeting with various sellers, and the pipeline is developing and I think you'll see us doing deals over the next 12 months."
Note: AmeriGas's acquisition of the Heritage propane business was a very large, company-transforming transaction that made $1.46 billion in cash, $1.32 in common units, and the assumption of debt. The types of acquisitions that propane distributors use on an ongoing basis are usually smaller tuck-in acquisitions.
Higher funding costs make acquisitions less attractive
Propane companies make acquisitions because they contribute to growth and gradually support earnings. However, if funding costs increase enough, they could make acquisitions less attractive, which could slow the growth of propane companies. To provide a simplified example, assume an acquisition target generates $10 million of yearly EBITDA (earnings before interest, taxes, depreciation, and amortization) and is selling for $60 million. Let's also assume that the acquisition is funded with half debt and half equity, so $30 million is funded with debt. If the cost of debt (interest rate) is 5%, the incremental interest associated with the acquisition is $30 million * 5% or $1.5 million. Assuming no cash taxes (MLPs don't pay corporate-level tax), the after-interest earnings from the acquisition are $28.5 million ($30 million EBITDA – $1.5 million interest).
However, if the cost of debt increases to 7%, the incremental interest associated with the acquisition is $2.1 million, the after-interest earnings from the acquisition is $27.9 million.
Higher interest essentially reduces the distributable cash flow from an acquisition, and if interest costs are high enough, companies may be dissuaded from making purchases.