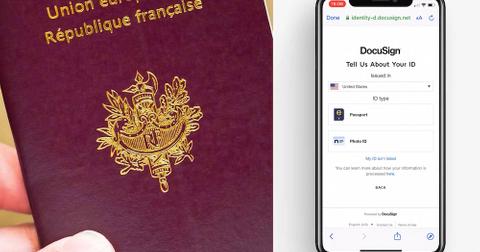 Is DocuSign More Than Just a Work-From-Home Stock?
By Anuradha Garg

Updated
DocuSign provides software to digitally sign documents. The service has been beneficial for a major part of the population. People are trying to maintain social distance amid the coronavirus pandemic. DocuSign software has been in high demand in 2020.
Article continues below advertisement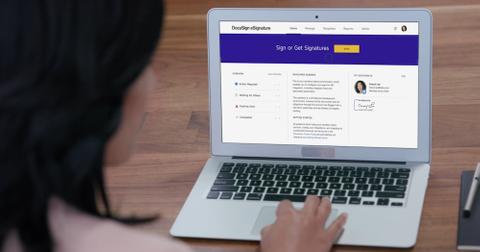 Article continues below advertisement
When did DocuSign go public?
DocuSign, founded in 2003, is a U.S. company with headquarters in San Francisco. The company's software allows organizations to manage electronic agreements. DocuSign creates electronic signatures on different devices. The company has more than 475,000 customers and hundreds of millions of users in over 180 countries. Currently, DocuSign's major competitor is Adobe.
DocuSign went public on April 27, 2018, on the Nasdaq exchange. The stock trades under the ticker symbol "DOCU." The company raised $629 million in its IPO. DocuSign's stock price surged by more than 30 percent on the first day of trading.
Article continues below advertisement
What is DocuSign's stock price?
DocuSign's stock price has surged by nearly 212 percent year-to-date. It has benefited from the work-from-home trend amid the coronavirus pandemic. Since the pandemic has forced people to maintain social distance and sign documents digitally, the demand for DocuSign's products increased significantly.
Article continues below advertisement
DocuSign released its third-quarter earnings on Dec. 3, which beat the market expectations. The company's revenues came in at $383 million compared to the expectations of $361 million. The stock climbed up by 6.1 percent on Dec. 3. In the pre-market trading on Dec. 4, the stock had gained 5.1 percent at 7:00 a.m. ET.
DocuSign on Stocktwits
Work-from-home stocks have been the flavor of the season and DocuSign is one of them. Online investing forums are abuzz with discussions about DocuSign, especially given its stock price surge year-to-date. Most of the recent discussion has been about the company's latest results, which beat market expectations. While most of the comments were in favor of DocuSign and how its recent results support its long–term thesis, there are doubters as well.
Article continues below advertisement
For example, one of the bearish investors said, "$DOCU Other alternatives. Again, its a product not the company worth of $40B." Some of the bears were also ruing their decision to exit the stock just before the earnings. Some of them plan to re-enter. Another bearish argument for the company was that it's overbought and overvalued. Bulls were mostly talking about the future being digital and how DocuSign fits that bill with great products.
How is DocuSign's stock forecast?
Currently, DocuSign is covered by 17 analysts. Among the analysts, 11 have a buy rating and six have a hold rating for the stock. There aren't any sell ratings for DocuSign stock. The median target price for the stock is $251.2, which implies a potential upside of 9 percent. Its sales forecast for the current fiscal year implies year-over-year growth of 42.4 percent and 31.2 percent for the next fiscal year. The earnings are expected to rise by an even higher percentage of 87 percent and 64 percent for fiscal 2021 and fiscal 2022, respectively.
Article continues below advertisement
While analysts might be forecasting a decline as the coronavirus pandemic comes under control, there might be an upside to the estimates. The trend toward digital seems more structural. The analysts haven't factored in the company's latest quarter results, which were a beat on market estimates. This should also lead to an upside for financial forecasts and the target price.
Should you buy DocuSign stock?
The trend driving people to use DocuSign seems to be structural. The pandemic has just accelerated the shift to online services. Building contracts offers benefits in terms of cost and efficiency apart from just being convenient. DocuSign also offers other services like products that help businesses analyze trends across past agreements. The segment saw a renewed interest in the latest quarter as businesses adjust to the current reality. These features should help businesses make efficient decisions quickly, which should drive future demand.
The market for e-signature providers is also extensive. According to DocuSign CEO Dan Springer, e-signature providers have penetrated less than 10 percent of the market. Therefore, the total addressable market is huge with a lot of opportunity for DocuSign and its competitors. At the start of such a trend, it makes sense to buy stocks that disrupt the old way of doing things. DocuSign is one of those stocks.