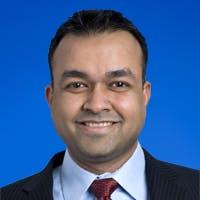 Vinit Srivastava
Vinit Srivastava is Senior Director, Strategy and Volatility Indices, at S&P Dow Jones Indices, focusing on alternative beta strategies including factor-based indices, dividends and volatility, as well as quantitative, thematic, and asset-allocation strategies. In his role, Vinit works closely with the sales, marketing, and Global Research & Design departments to bring new ideas to market.
Prior to his current role, Vinit worked for Oracle USA, Inc. in engineering and product management roles for seven years. At McGraw-Hill Financial, Vinit worked on Business Strategy and Corporate Strategy assignments prior to taking his role at S&P Dow Jones Indices.
Vinit holds an MBA from the Darden School of Business at the University of Virginia, a master's in Mechanical Engineering from Carnegie Mellon University, and a B. Tech in Mechanical Engineering from IIT Kharagpur, India.
Disclosure: The content Market Realist publishes should not be construed as investment advice, nor do the opinions expressed necessarily reflect the views of S&P Dow Jones Indices.