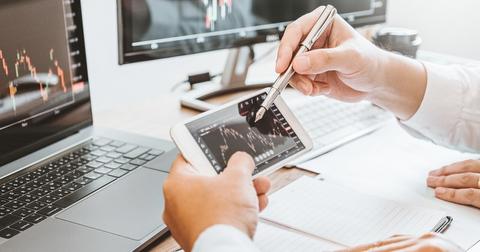 Disney Makes Baffling Land Purchases as Stock Soars
By Ruchi Gupta

Updated
Walt Disney stock (DIS) is soaring. At the same time, the company is making some startling land acquisitions. And it's not the only one with an appetite for real estate. Apple and Google (GOOGL) have also been stockpiling land parcels. There isn't much in common between Disney and tech giants Apple and Google in terms of business. What is known, though, is that Disney CEO Bob Iger sat on Apple's board of directors until he decided to step down in September.
Article continues below advertisement
Iger's exit from Apple's board came as Disney was preparing to clash with Apple in the video streaming market. Disney and Apple launched competing subscription video services under the Disney+ and Apple TV+ brands, respectively, in November. Google is also in the video streaming business through YouTube, where it runs ad-supported and subscription video services.
Disney's Disney+ has now entered its third month. Let's look at Disney's recent stock performance and land purchases in Florida.
Disney stock enters 2020 with a 4.4% gain since the Disney+ launch
Disney+ launched on November 12 to a warm reception. The service gained more than 10 million subscribers on the first day. It continued to attract more users afterward and was expected to exit 2019 with over 20 million subscribers, after taking more than 1.0 million subscribers from rival Netflix (NFLX).
Investors have warmed up to Disney stock since the Disney+ launch. Disney stock wrapped up 2019 with a 4.4% gain since the Disney+ debut.
At the end of 2019, Disney+ had launched in five countries, including the US and Australia. The service is set to roll out to more countries this year, including India and much of Europe.
Article continues below advertisement
Netflix, the king of video streaming, is available in more than 190 countries and boasts nearly 160 million subscribers. Disney aims to have 60 million–90 million Disney+ subscribers by 2024. Hulu, Netflix's closest rival in America, has about 30 million subscribers. Hulu, a Disney property, hopes to attract more subscribers with expanded programming, including FX content.
Disney's land purchases fuel rumors
Disney spent about $39 million over 13 months to purchase nearly 3,000 acres of land in Florida around its Walt Disney World resort, Orlando Weekly reported last month. There has been no explanation from Disney about its plan for the land purchase. But the lack of explanation is only fueling rumors, including speculation about another theme park at the resort.
Disney stock gained 32% last year. Netflix stock gained 21%.