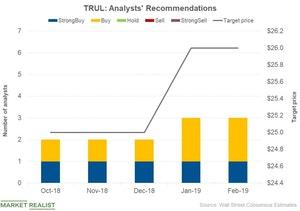 Vaping: What the CDC Has Uncovered So Far
By Adam Jones

Jan. 11 2020, Updated 12:50 p.m. ET
Vaping-related illness has become the latest thorn in the cannabis industry's side, and the issue could not have come up at a worse time. Cannabis sector players were just starting to shift their focuses to vaping products. Vaping is supposed to be the next big thing in the cannabis industry. For an in-depth analysis, read Vaping Cannabis or Smoking Tobacco: Burning Questions.
Article continues below advertisement
The vaping scare
Recently, vaping concerns have created a negative image around vaping and cannabis stocks. The cause of these reported vaping illnesses is still under investigation, but some states in the US have already moved to ban vape products. The Trump administration is also considering a ban.
However, the CDC (Centers for Disease Control and Prevention) recently provided insight into the cause of these illnesses. According to the CDC, most issues related to vaping resulted from products that contained THC (tetrahydrocannabinol). THC is the psychoactive component in the cannabis plant that provides a high after consumption. Consequently, THC products and the vape format largely affect recreational marijuana consumers.
Should you stay away from vapes?
The CDC has issued a recommendation to stay away from using vape products that contain THC. Though the CDC issued this warning, the root cause of the problem is still unclear. In its notice, the CDC stated, "More information is needed to know whether a single product, substance, or brand is responsible for the lung injuries. Unraveling outbreaks such as this requires the collection and analysis of complex information."
Why the cannabis industry can relax
While the cannabis industry is feeling the heat, there's a silver lining. According to the CDC, the vaping products that caused these lung illnesses came from informal sources. This means that the THC cartridges or oil used in the vaping devices that caused these issues were procured from the illicit market.
Cannabis industry players such as Canopy Growth (WEED) (CGC) are already banking heavily on the success of vaping products. Similarly, Aphria (APHA) is also planning to expand its vape business. The vape products from these companies will undergo significant regulatory scrutiny.
Since quality control will be key for regulators, customers can expect safe products. Safety was one of the key reasons Canada legalized cannabis. In a way, these vaping-related illnesses may translate to a boom for legal cannabis players. Aphria's Irwin Simon also recently echoed this thought.