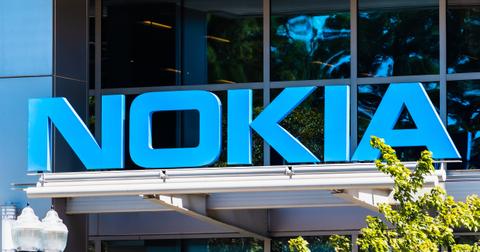 Nokia Slumps 22% on Weak Outlook, Dividend Rollback
By Adam Rogers

Updated
Shares of telecommunications equipment giant Nokia (NOK) are down 22.4% today as of 12:10 PM ET. Nokia announced its third-quarter earnings results today and reported sales of 5.68 billion euros ($6.31 billion) on EPS of 0.05 euros. While its revenue rose 4%, its EPS fell 17% year-over-year in the quarter.
Analysts had expected Nokia to post sales of $6.32 billion and EPS of $0.06 in the third quarter. So why have its shares plunged today?
Article continues below advertisement
Nokia's weak outlook
Nokia has revised its revenue forecasts downward for 2019 and 2020. In 2019, Nokia expects EPS of between 0.18 euros and 0.24 euros, down from its previous forecast of between 0.25 euros and 0.29 euros. It expects an operating margin of 7.5%–8.5% for 2019.
Nokia also expects 2020 EPS of between 0.20 euros and 0.30 euros, well below its previous estimate of between 0.37 euros and 0.42 euros. It expects its 2020 operating margin to be 8.5%–10.5%. Its previous estimate was 12%–16%.
In 2019, analysts expected Nokia to post EPS of $0.26 (0.23 euros). Their earnings estimate for 2020 stands at $0.39 (0.35 euros).
During Nokia's earnings call, CEO Rajeev Suri stated that the company's sales had been driven by strong performances in Nokia Enterprise, IP Routing, and Nokia Software. However, the company's gross margin was affected by product mix and high costs associated with its line-up of 5G products.
Suri also attributed lower profitability to challenges in China and pricing pressure in 5G deals. He claimed, "We expect that we will be able to progressively mitigate these issues over the course of next year. To do so, we will increase investment in 5G in order to accelerate product roadmaps and product cost reductions, and in the digitalization of internal processes to improve overall productivity."
Nokia expects its profit margins to improve after 2021 when the 5G rollout has intensified across geographies. The company expects a long-term operating margin of 12%–14%.
Article continues below advertisement
Dividend rollback a grave concern
Nokia also announced that its board of directors had decided against the distribution of dividends for the third and fourth quarters. Nokia paid an annual dividend of $0.22 per share, indicating a dividend payout ratio of 87% and a yield of 4.4%.
NOK wants to use the cash to increase its 5G investments, strengthen its cash position, and invest in strategic areas such as software. The company expects to start paying dividends after it reaches a cash balance of 2 billion euros.
Any company that stops paying dividends is viewed as fundamentally weak. A dividend rollback usually occurs when a company is unable to generate enough cash flow to pay back debt and reinvest in growth opportunities due to weak profitability cash flow metrics.
Though Nokia has no debt, it now wants to gain traction in end-to-end networks and focus on the enterprise segment. Nokia has launched 15 live 5G networks with telecommunications giants that include AT&T, Verizon, T-Mobile, Sprint, Vodafone, and Zain.
NOK is one of three major players in the telecommunications equipment space and has severely underperformed the markets over the last few years. Its sales have declined from 23.94 billion euros in 2016 to 22.58 billion euros in 2018. Analysts expect Nokia's 5G transition to drive its sales to 24.83 billion euros in 2021.
Has Nokia stock bottomed out?
Investors have now lost over 50% in Nokia in the last five years. The stock's fall of 22% today has been its highest-ever loss in a single day. The stock is trading at a cheap valuation multiple for a reason. It's struggling with profitability and revenue growth. Nokia has undergone several cost-reduction programs but has been unable to grow at a sustainable rate.
The telecommunications equipment space is a mature one, but Nokia needs to find a way to boost its bottom line going forward to keep investors interested. It seems Nokia has also failed to capitalize on the Huawei ban. Though the company's management remains optimistic about the growth potential in Internet-of-Things, 5G, and enterprise software, investors will likely no longer be taking its estimates at face value.
NOK gained over 3% last week after Ericsson's strong outlook. Ericsson's third-quarter results raised hopes of a turnaround for Nokia investors, but NOK is now trading at a seven-year low.