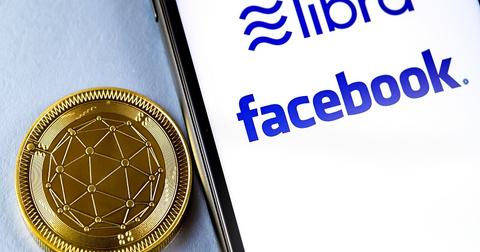 Facebook Libra: ECB Official Provides a Ray of Hope
By Ruchi Gupta

Updated
Recently, Facebook's (FB) Libra cryptocurrency project suffered several setbacks due to sustained attacks from regulators and politicians. As a result, several important founding members of the Libra project left. The list of founding members that no longer support the project include PayPal, Visa, MasterCard, and eBay.
In addition to losing members, regulators and lawmakers from around the world continued to attack Facebook's crypto project. They think that Facebook and its associates should either rethink the Libra project or abandon it. On Tuesday, Germany's Finance Minister Olaf Scholz celebrated Visa and other members' withdrawal from Libra.
"It's a good sign that important companies have withdrawn from this project [Libra]," Scholz told Reuters.
Article continues below advertisement
ECB and EU won't ban stablecoins like Libra
However, a top ECB official provided hope for the Libra project.
ECB Director Benoit Coeure said that the EU financial regulator doesn't plan to ban Libra or so-called "stablecoins." In fact, Coeure said that the European Commission doesn't intend to ban stablecoins either. The European Commission is the EU's executive arm.
According to Coeure, Facebook might need to submit to stringent regulatory requirements. The company said that it won't launch Libra until it addresses regulatory concerns.
With Coeure's comment, Facebook's Libra isn't broadly hated across Europe.
EU is divided about Facebook's Libra project
Considering Coeure's comment, France and Germany are speaking for themselves. As we discussed previously, France and Germany vowed to block Facebook from launching Libra in Europe.
Also, Coeure's comment seems to indicate that Facebook's Libra project has divided Europe. Last month, ECB Director Yves Mersch criticized Libra. He said that the project is a dangerous promise.
Facebook to tie libra's value to the dollar and other fiat currencies
Stablecoins are digital currencies. Faebooks plans to tie libra's value to a government-issued currency like the dollar. Facebook plans to peg libra's value to a basket of fiat currencies including the dollar, euro, and yen. Typing a digital currency like libra to fiat currency would ensure a stable value. Facebook's aim is to make libra a global digital currency for everyday transactions.