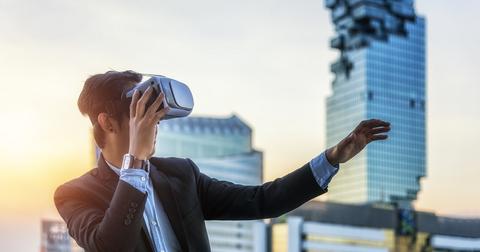 Where Does Facebook's CTRL-labs Deal Fit in the Bigger Picture?
By Ruchi Gupta

Updated
This week, Facebook (FB) announced its acquisition of CTRL-labs, a New York–based technology startup. It provided no financial details for the deal. However, CNBC reported that Facebook is spending $500 million–$1 billion on the CTRL-labs acquisition. Facebook finished the second quarter with $48.6 billion in cash reserves.
Facebook to apply CTRL-labs technology in VR/AR products
CTRL-labs has operated for four years. Before Facebook came calling, CTRL-labs had raised $67 million in three rounds of funding from a group of investors including GV, Alphabet's (GOOGL) investment arm.
CTRL-labs develops technology that enables people to control computers using their brains. Facebook has built a range of VR (virtual reality) devices through its Oculus subsidiary. Also, the company is working on AR (augmented reality) glasses.
Facebook boosts business diversification efforts
What we see here is Facebook using CTRL-labs to supercharge its VR and AR projects. That should boost Facebook's business diversification efforts, which we believe is the bigger picture here.
Presently, Facebook relies on the advertising market for its revenue. Advertising sales comprised about 99% of Facebook's total revenue in the second quarter. With that, Facebook became more dependent on the advertising market than its ad-funded peers Google, Twitter (TWTR), and Yelp (YELP).
Advertising contributed 84% to Google parent Alphabet's (GOOGL) second-quarter revenues. Twitter and Yelp derived 86% and 96%, respectively, of their revenues from advertising in the second quarter. Yandex (YNDX) and Baidu (BIDU) derived 70% and 73%, respectively, of their second-quarter revenues from advertising.
However, the advertising market is becoming more challenging, raising the need for Facebook to diversify into other businesses outside the advertising sector. That explains why Facebook has ventured into making hardware products. Through its Oculus subsidiary, Facebook makes VR headsets, which have started doing well.
Facebook's non-advertising revenue increased 36% year-over-year to $262 million in the second quarter. The company attributed the growth to its strong sales of Oculus Quest, one of its latest VR products.
In our view, there is a huge revenue opportunity for Facebook in the VR/AR market. According to Allied Market Research, the global VR/AR market could grow to $571.4 billion by 2025 from $11.4 billion in 2017. So, we believe the VR/AR market could make a difference for Facebook's business diversification efforts if it can create strong-selling products for this market with the help of CTRL-labs.