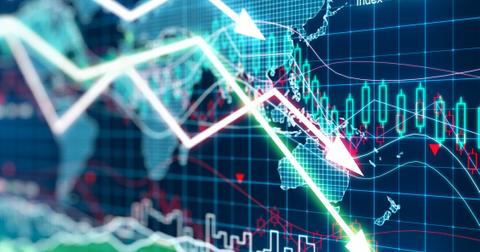 Tech Roundup: DXC, ORCL, and GRPN Slump Today
By Adam Rogers

Updated
The Dow Jones Industrial Average is up 122 points (or 0.45%) today, and the S&P 500 Index gained 0.6%. The Technology Select Sector SPDR Fund rose close to 1%. However, tech stocks Oracle (ORCL), DXC Technology (DXC), and Groupon (GRPN) lagged the market today.
DXC Technology
Shares of DXC Technology fell over 11% today. The company announced the resignation of Mike Lawrie, its president and CEO, who is expected to leave the firm by the end of 2019. DXC appointed Mike Salvino to take Lawrie's position. Salvino was the former CEO at Accenture.
DXC closed trading at $32.46, which is 67% below its 52-week high. DXC has now lost 38% year-to-date and 42% since August 2019.
DXC shares fell 30% in a single trading session on August 9 after the company reported its first quarter of fiscal 2020 (year ending in March) results. While DXC reported revenue and earnings in line with estimates, its tepid forecast sent the stock significantly lower.
ORCL fell 4.2% today
Shares of Oracle (ORCL) are down 4.2% today. The company announced its first quarter of fiscal 2020 results yesterday after the market closed. ORCL reported sales of $9.22 billion in the August quarter, below analyst estimates of $9.29 billion. ORCL's earnings per share of $0.81 were in line with Wall Street estimates.
The company's revenue miss was due to weak performance in the cloud computing market, according to Reuters. ORCL stock has returned 20.8% year-to-date and is trading 11% below its 52-week high.
Groupon
Shares of daily deals company Groupon fell 4% today to $2.89 per share. Today, we noted that activist investors might want Groupon to acquire Yelp. Shareholders want to see a quick turnaround in Groupon's operations, and they're becoming restless with the company's less-than-impressive performance over the years.
However, these acquisition reports are still unconfirmed. Groupon stock rose over 20% in the first 10 days of September as activist investors increased their stakes in the company. Groupon has returned -9.7% year-to-date and is trading 28% below its 52-week high.
Are DXC, ORCL, and GRPN attractive after the recent pullback?
Analysts covering DXC have a 12-month average target price of $57.60, indicating an upside potential of 77% from the current price. Oracle is trading 5% below its target price of $56.62, and Groupon is trading 28.5% below its target price.
Other tech stocks that slid today include Sina, Ubiquiti Networks, and Palo Alto Networks, which fell 3.2%, 2.9%, and 2.3%, respectively.