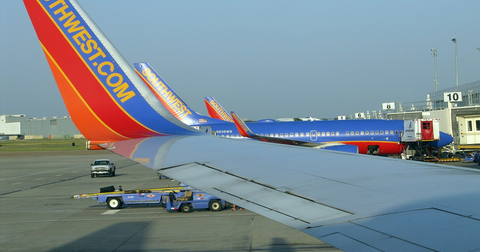 Southwest Airlines: MAX Fleet Cancellations beyond October 1
By Anirudha Bhagat

Updated
MAX cancellations
Southwest Airlines (LUV) expect that its 737 MAX fleet cancellations will continue into October. Recently, a new safety problem was discovered with the troubled jet. Gary Kelly, Southwest Airlines' CEO, provided an internal update for employees on July 1.
On June 26, the FAA (Federal Aviation Administration) revealed that it found a data processing issue with Boeing's (BA) 737 MAX plane. The FAA was testing the aircraft's safety on a simulator. During the tests, pilots had a hard time recovering the jet in a scenario where the plane's nose was pitched down.
Article continues below advertisement
Citing the new findings by the FAA, Kelly said, "I'm sure this will cause us to have to take the MAX out of the schedule beyond Oct. 1," according to a Reuters report. He said that the company would also look at "what other modifications we might need to make our plans for this year because it's obviously extending well beyond what I had hoped."
Earlier, the company extended the MAX fleet cancellations through October 1. The latest safety issue could delay the MAX 737 fleet's return even more. Industry experts expected Boeing to get test flight approvals by early July. Experts expected that air carriers would be able to resume their MAX fleet services by September. The new safety issue could push the MAX 737 fleet's return to the end of December.
At 34, Southwest Airlines has the largest number of 737 MAX planes. The company is trying to substitute its MAX routes with spare planes. However, Southwest Airlines is still facing 115 daily flight cancellations due to grounding the MAX 737 planes.
Other airlines are suffering
American Airlines (AAL) and United Airlines (UAL) are also facing massive flight cancellations due to the troubled MAX jets. American Airlines, which owns 24 MAX planes, is facing 115 daily flight cancellations. The company has extended the grounding of its MAX jets until September 3. American Airlines expects the MAX grounding to have a negative impact on its pre-tax income by $350 million in 2019.
United Airlines owns 14 MAX planes. The company has removed the aircraft from its flight schedule through September 3. United Airlines is expected to witness 5,340 flight cancellations from April through August.
Investors could consider the iShares Transportation Average ETF (IYT), which has allocated 19% of its funds in the passenger airline industry. IYT has gained 14.6% in 2019. However, IYT has underperformed the Dow Jones, which has risen 14.5%.