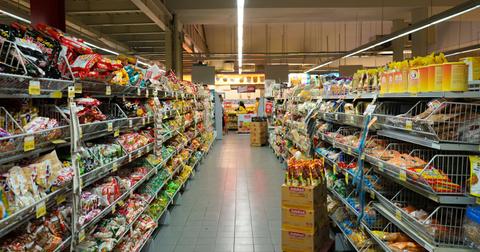 Costco's June Comps Rose, Domestic Market Saw Good Growth
By Amit Singh

Updated
Comps rose despite tough comparisons
Costco (COST) posted its sales data for June after the markets closed on Wednesday. The company's monthly sales were strong due to growth in the domestic market. Costco reported impressive comps growth in June despite facing tough YoY (year-over-year) comparisons. The retailer's strong sales performance was due to sustained momentum in the base business. In the domestic market, Costco faces more competitive activity.
Costco's comps rose 5.4% for the five weeks ending July 7. Meanwhile, the net sales increased 7.5% to $14.57 billion. During the same period last year, Costco's comps rose 9.7%, while the net sales increased 11.7%.
The sales were strong in the US due to traffic growth and ticket size. The comps rose 6.3% in the region. Canada and other international markets reported comps growth of 2.8% and 3.1%, respectively. The e-commerce sales increased 15.7%.
Article continues below advertisement
Costco continues to invest in price to attract value-driven customers as it widens the value gap with its peers and drives traffic. Expanded assortments and e-commerce initiatives support the company's comps growth. Costco's high-membership renewal rate indicates strength in its base business. The high renewal rates will likely support Costco's comps in the coming quarters. However, the company faces tough comparisons, which could restrict the growth rate.
Excluding the changes in foreign exchange and gasoline prices, Costco's comps increased 5.1% in June. By segments, the comps increased 5.3% in the US, 4.3% in Canada, and 5.5% in other international markets. The company's e-commerce sales increased 20.8%.
Outlook
We expect Costco's comps to continue to grow at a healthy pace in the coming quarters due to traffic growth and ticket size. Costco's comps growth will likely outpace its peers. The company's strong comps have driven its stock higher this year. So far, Costco stock has risen 33.2% this year. The stock has generated better returns than its peers. In comparison, Target (TGT) and Walmart (WMT) shares have increased 29.9% and 21.3%, respectively, on a YTD basis as of Wednesday.
While we expect Costco to sustain the comps momentum, its EPS growth rate will likely soften due to tough comparisons and a lack of benefits from the lower tax rate. An expected slowdown in the EPS growth rate makes Costco's current valuation unattractive and could limit the upside in the stock. Read Is Costco's Comps Growth Overshadowing Valuation Concerns? to learn more.