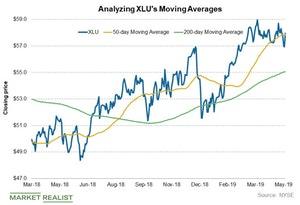 XLU and SO: Analyzing Moving Averages and Short Interest
By Vineet Kulkarni

May. 13 2019, Published 3:20 p.m. ET
Moving averages
Article continues below advertisement
Top gainer: Southern Company
Top utility Southern Company (SO) has shown a solid rally so far this year. It is up more than 20% and is currently trading close to its all-time high. Its RSI stood at 63 at last week's closing. Southern Company stock is trading 3% and 12% above its 50-day and 200-day moving average levels, respectively. The fair premium to both the support levels indicates strength in the stock.
Short interest
Short interest in XLU grew 8% as of April 30. The total shorted units were 43.9 million on April 15 and increased to 47.6 million on April 30.
The short interest indicates the total number of shares that have been sold short and not covered back yet. A decrease in XLU's short interest might suggest that fewer investors expect it to fall from the current levels. SO's short interest decreased 5% as of April 30.