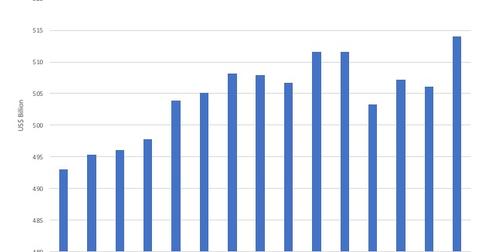 Why the Consumer Is King When It Comes to Economic Activity
By Mike Sonnenberg

Updated
More power to us
So far, our focus has been on the stock market and manufacturing segment, but what about you and me? Do our activities impact the economy? Intuitively, it feels like businesses spend more than consumers. After all, they are huge and they spend in millions and billions. You may be surprised to hear that the US (SPY) annualized consumer spending came in at $14.2 trillion dollars in the first quarter of 2019, which is a whopping 75% of GDP. So, next time Amazon (AMZN) says that they want to be the Earth's most consumer-centric company, you know why. They basically want a larger pie from our spending.
Article continues below advertisement
Why retail sales matter
Now that you know we are so powerful, it's easy to understand why we matter. Higher consumer spending leads to higher demand, which leads to higher production, which in turn leads to an increase in employment, and that leads to even higher spending. Shouldn't we borrow and just keep spending then?
There is a catch. Uncontrolled leveraged spending (using borrowed funds) means you are spending more than you are earning and sooner or later, the cycle is going to break. When too many people do that, it leads to a recession as we saw back in 2007.
Retail sales can be roughly divided into two categories: consumer discretionary (XRT) and consumer staples (XLP). As the names suggest, discretionary spending is affected substantially by economic activity and expectations while the other kind is relatively stable. When consumers feel confident about the economy and the future, they spend more. When they are unsure, they get defensive and save more. Thus, a drop in discretionary consumer spending may mean that consumer confidence is falling. The US census releases monthly retail sales data as an estimate.