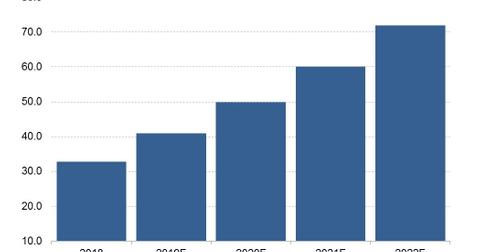 Why Indian Tycoon Ambani Is on Amazon Investors' Minds
By Neha Gupta

Updated
Ambani ready for confrontation with Jeff Bezos
Indian tycoon Mukesh Ambani is gearing up to enter India's online retail market, where he will take on Amazon (AMZN) as well as the other e-commerce providers in the country, according to media reports. If upending industries is the yardstick, then Ambani can be viewed as another Jeff Bezos. In India, Ambani has greatly disrupted the country's telecom sector, even leading to Vodafone (VOD) merging its Indian unit with a rival to cope with the competition from Ambani's Reliance Jio. That is why talks of Ambani venturing into e-commerce is on the minds of observers and Amazon investors because of the kind of competition the company is likely to face in India.
Article continues below advertisement
Just when Amazon was looking to dominate India's e-commerce scene, Walmart (WMT) moved to strengthen fierce rival Flipkart by injecting $16 billion into the business. With that financial boost and the opportunity to work closely with Walmart, Flipkart has continued to give Amazon tough competition in India's e-commerce market. Now Ambani is about to further stir the waters for Amazon in India.
The man behind Reliance Retail
Retail is not a new field for Ambani. According to a report from the Economic Times, Ambani is the man behind Reliance Retail, a retail business with over 10,000 stores across 6,600 cities. Therefore, expanding into e-commerce should be easy for the tycoon.
India's online retail market was valued at $32.7 billion in 2018 and is poised to grow to $71.9 billion by 2022, according to eMarketer. The other foreign companies pursuing this revenue opportunity alongside Amazon are SoftBank (SFTBF) and Tencent (TCEHY). SoftBank is an investor in India's e-commerce and mobile payments firm Paytm alongside Alibaba (BABA), which also backed Indian e-commerce platform Snapdeal. Tencent has an interest in Flipkart.