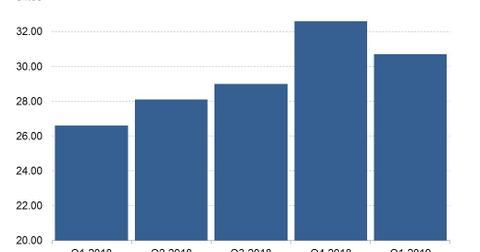 Why Google Is Refunding Some Advertisers
By Neha Gupta

May. 30 2019, Published 12:41 p.m. ET
Google's advertising revenue rose 15%
Alphabet's (GOOGL) Google will refund its advertisers whose campaigns ran on sites with invalid traffic, according to a recent report from the Wall Street Journal. It's unclear what this refund will cost Google, but it will certainly come as a financial loss for the company.
Google generated advertising revenue of $30.7 billion in the first quarter, representing an increase of 15.4% YoY (year-over-year). Advertising revenue increased 26% YoY at Facebook (FB), 18% YoY at Yandex (YNDX), 6.0% YoY at Yelp (YELP), and 3.0% YoY at Baidu (BIDU) in the quarter.
Advertising contributed 85% of total revenue at Google's parent, Alphabet, in the first quarter.
Article continues below advertisement
Facebook considered refunding advertisers
Facebook, which derives most of its revenue from advertising, also explored refunding its advertisers following global outages on its advertising platforms that resulted in lost exposure for advertisers. Facebook's platforms, from its namesake social network to Instagram, have suffered global outages lasting for as long as a day in recent months. Google and Facebook are the world's top digital advertising providers.
As the world's leading digital advertising platforms grapple with traffic fraud and service outages, which can cost the marketers that choose to advertise with them, some advertisers are threatening actions that could hurt their bottom lines. As Bloomberg reported last month, Procter & Gamble (PG) has threatened to cut ad spending on platforms that can't guarantee the transparency and brand safety it wants. PG is one of the world's top corporate advertisers.