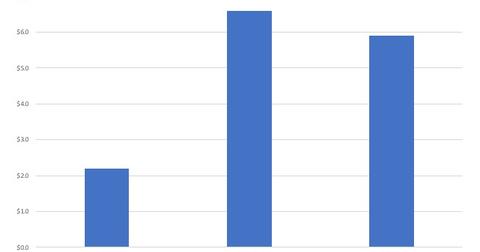 What Other Business Models Is WeWork Experimenting With?
By Mike Sonnenberg

Updated
Other business models
In the previous article, we learned that WeWork is trying to shift to an own-and-operate business model from its traditional lease-and-operate one. Apart from owning properties through Ark, WeWork is experimenting with other business models to become leaner and turn a profit faster.
Article continues below advertisement
Managed solutions
WeWork's Powered by We platform offers third-party office solutions to corporates. Thus, instead of hosting corporates at WeWork locations, the company builds workspaces for clients and manages these spaces along with some shared functions, such as community management. Since WeWork doesn't need much capital investment for this, the growth of the Powered by We segment will help the company cut back on its losses.
Revenue sharing
In some cases, WeWork is partnering with real estate investors who also provide capital for turning their properties into WeWork locations. These investors can be compensated by sharing revenues or profits. Since WeWork isn't yet profitable on an aggregate level, revenue sharing seems to be a more likely arrangement. Just like Powered by We, these arrangements will help the company reduce its investment outlays and losses.
Beyond coworking
The company has also expanded into coliving, wellness, education, and startup incubation. WeLive, the company's coliving arm, operates shared living facilities in New York City and Washington, D.C. The company also operates a wellness business through the Rise by We brand. WeGrow and the Flatiron School provide educational services, while WeWork Labs provides startup incubation and acceleration.
However, coworking remains the company's key segment, with the majority of its revenue coming from memberships.