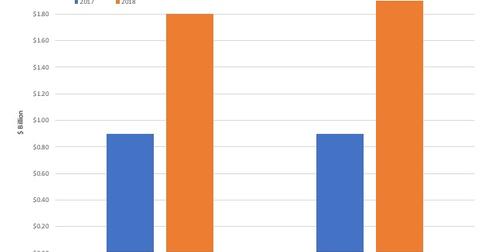 WeWork Joins the Race to the Market—Will You Book Your Place?
By Mike Sonnenberg

Updated
Shared vision
With a private valuation of $47 billion, WeWork, which recently rebranded as the We Company, is the second-most-valued unicorn in the United States after Uber. Like Uber, WeWork is a Softbank Vision Fund portfolio company. Uber wants to be the leader in the transportation sector (IYT), while WeWork is looking to dominate the commercial real estate sector (VNQ).
WeWork recently disclosed that it had submitted an S-1 filing to the Securities and Exchange Commission on a confidential basis. An S-1 filing contains information on a company's business and finances that investors use to study it before investing in its IPO.
Article continues below advertisement
Is trouble brewing?
While Softbank remains WeWork's key investor (with $8 billion in investments), it has scaled down its further investments drastically to $2 billion from its proposed $16 billion in January. While there could be many reasons for this change, the growing voice against WeWork's sky-high valuation could be one of them. Sovereign funds in Saudi Arabia and Abu Dhabi are the key investors in the Softbank Vision Fund, so their concerns may have also led to the cut.
The $47 billion price tag values WeWork at almost 12x its London Stock Exchange competitor IWG. IWG is the largest serviced office company in the world, and it's betting big on its coworking brand, Spaces, to rival WeWork. IWG recorded a net profit of 105.7 million British pounds ($138.1 million) in 2018 compared to WeWork's $1.9 billion net loss in the same period. International property consultants JLL (JLL) and CBRE (CBRE) are also targeting the coworking market.
WeWork leases properties on a long-term basis and rents desks and offices on a short-term basis. This model comes with a certainty of costs: lease payments for the years to come. Last year, Bloomberg revealed that WeWork owed $18 billion in future leases.
Cash is king
In spite of all of this, WeWork sits on a $6.6 billion cash pile, enough for it to sustain for over three years at its current level of losses. Its IPO is expected to bring a few more billion its way to help it continue growing without profits. Is it worth it? Only time will tell.